The Chorus gardening team is a hard-working bunch and tending to customers' gardens is thirsty work.
With all the effort our team puts into home and community care, we go through a lot of water. Over the years our 80 full-time staff and more than 500 volunteers have been given bottled water, but we've become increasing conscious of how much plastic we're consuming. Last year we handed out 32,000 single-use plastic water bottles and while it all goes to recycling, we know we can do better.
So, we are. By joining the global community's war on plastic waste.
Since 1 June our gardening and home maintenance teams have been supplied with a reusable 750 ml stainless steel bottle, with plastic water bottles to be a thing of the past.
Chorus Manager of Gardening and Home Maintenance Services Andy Harold said plastics in the environment are a worldwide issue and, as a sustainable organisation, Chorus felt it was important to do its part in reducing plastic waste.
"By nature, professional gardeners and people who work in that area are very environmentally friendly and want to try and improve the environment," he said.
How will the rollout of reusable water bottles work?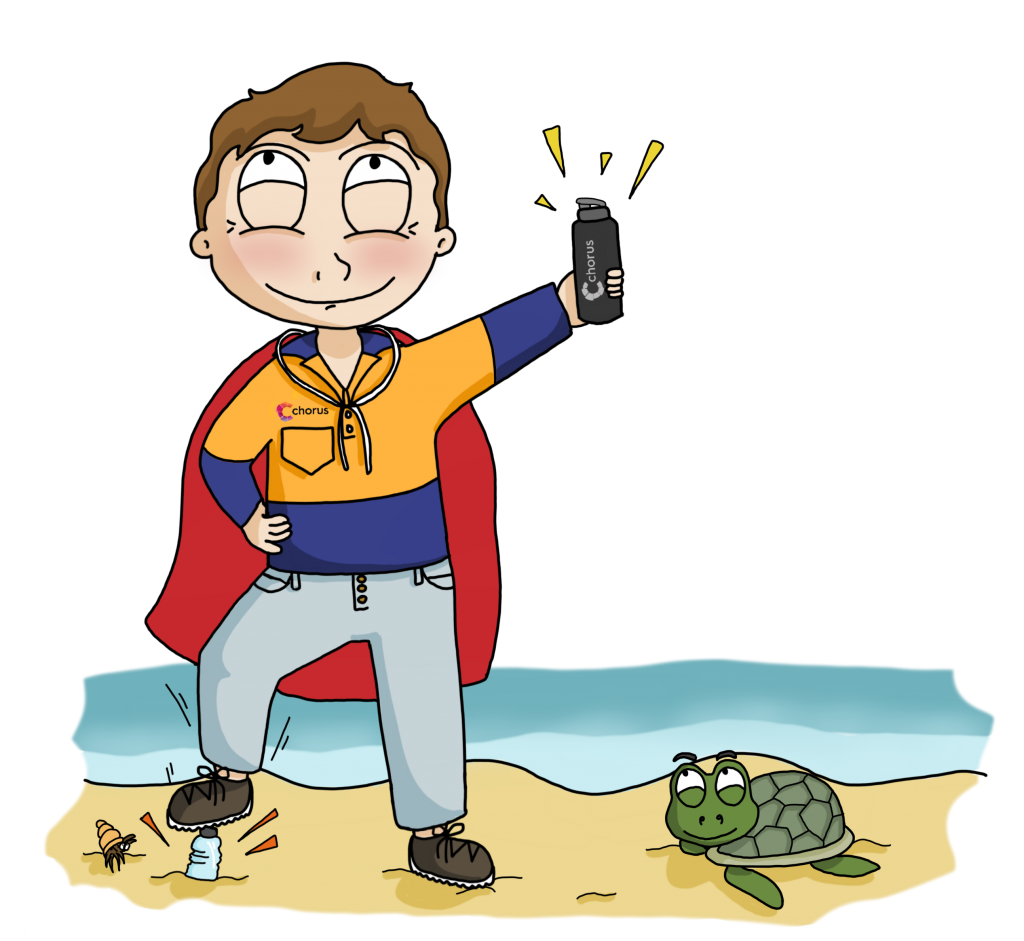 Andy said a trial of stainless steel bottles began at the Wanneroo gardening depot, with the remaining four depots eliminating single-use plastic water bottles in stages during winter.
As part of the program:
Each gardening team member gets a 750 ml stainless steel bottle
Each unit will go out for the day with a 15L water cooler filled with filtered tap water to fill up their bottles.
Andy said people tend to use bottled water because it's convenient. By providing an alternative and no longer supplying plastic water bottles, Chorus hopes the transition will be an easy one.
"We want to remove that plastic so it's not there for anybody," he said. "We're really giving people ownership of their environment."
He added that the decision to switch to a reusable bottle was not a financial one, but about Chorus doing its part to help the environment.
"We're growing as well, so the depots are becoming bigger and we're taking on more work, so as we do that, we have to supply more water," he said.
Why is it important to reduce plastic waste in the environment?
According to a 2018 Australian Government report on plastics recycling, Australians consumed 3.51 million tonnes of plastics in 2016-17
Of that, only 415,200 tonnes, or 11.8 per cent, was recycled
Most of the recycled plastic (56.6 per cent) was shipped overseas, but this is falling after China effectively banned most imported plastic waste in 2017
Plastic is harmful to our oceans and marine life, with an estimated 4 to 12 million metric tonnes of plastic entering the marine environment each year
The plastic that is in our oceans takes hundreds of years to break down. A plastic water bottle takes at least 450 years to completely degrade.
What else is Chorus doing to help the environment?
As well as cutting out plastic water bottles, we've been working hard to ensure customers who receive our gardening and home maintenance services have low-water-usage gardens.
Chorus is the only not-for-profit organisation in WA qualified through the WA Water Corporation in its Water Wise Program principles.
Our 80 full-time Gardeners are trained and hold specialist Water Wise landscaping and garden maintenance accreditations. In addition, we've won several awards for show gardens. You can read more about our Water Wise efforts here.
Andy says the reusable water bottles are just the start and he hopes to roll out more environmentally friendly initiatives in the future.
Want to learn more about our gardening work? Why not become a gardening volunteer? Get in touch for more information on 1800 264 268 or email volunteering@chorus.org.au.