November is a time of year when men's mental health receives particular focus, thanks to the fundraising activities of Movember.
As moustaches start to grow on the upper lips of our friends and colleagues taking part in Movember, it's a good opportunity to have a conversation about men's mental health and ways we can all make a difference.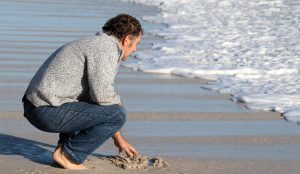 The conversation around men's mental health needs to change
Slowly but surely, the way we talk about mental health in Australia is changing – and not before time.
As the remarkable documentary series Man Up recently highlighted, our culture of telling men to "harden up" or "suck it up" and generally be tough all the time has created a crisis in mental health.
Let's look at the facts, according to MensLine Australia.
Australian men are three times more likely to die by suicide than women
The number of men and women living with mental health conditions in Australia is about the same, but men are less likely to seek help (they account for only 40 per cent of Medicare-subsidised mental health services)
Men are also approximately twice as likely to die from drug- and alcohol-related causes than women.
Some of the most common mental health conditions men experience are related to loneliness and isolation, stress, depression and anxiety.
Sometimes these conditions – especially in older people – can be triggered by big life changes, including illness, frailty, bereavement, loss of independence, financial stress and times of change.
According to Beyond Blue, between 10 and 15 per cent of older people experience depression and about 10 per cent experience anxiety, with rates of depression among people living in residential aged care thought to be around 35 per cent.
Recognising the need for help in our loved ones
So, how can we help the men in our lives? First of all, we can be alert to any changes in their mood or behaviour.
For example, here are MensLine Australia's tips for recognising depression:
A persistently low or sad mood that lasts longer than two weeks
Anxiousness
Tiredness and a loss of energy
Significant change in appetite or weight
Difficulty making decisions
Expressing negative thoughts, such as feelings of worthlessness and guilt
Being self-critical
Physical symptoms, including weakness, headaches and sleeping problems
Avoiding social activities and interests they previously enjoyed.
BeyondBlue also has some useful tips for recognising anxiety and depression in older people.
How we can support men on their mental health recovery journey
At Chorus we're used to being a part of the mental health recovery journey for our customers. Chief executive Dan Minchin says the best approach is to provide support that gives customers the space to find their own journey.
"It goes back to the heart of what Chorus is about, which is recognising the humanity in every person regardless of the experiences they have had," he said.
"We recognise that the way men engage with their mental health and their recovery path can be different to the way women deal with it, so in the past year we've been running a dedicated men's group.
"That's really about creating a safe space where men can share their experiences. Really it's a lot about creating connections. The guys running these programs talk about people coming to that group who don't have anyone's phone number in their phone, then the first name and number that goes in there is someone from the group.
"The way it works is very much around leaving space for them to develop their own path and their own activities, to empower them, giving them a sense of how to be effective in their lives."
Dan said Chorus continues to operate these sorts of groups and also has one-on-one support available to customers.
"They are really effective in terms of how it helps people find a sense of belonging," he said.
Tips for talking to men about mental health
It can be notoriously difficult to get some men to talk about what they're feeling. MensLine Australia has some great tips for anyone seeking to support someone who might need it.
Talk shoulder-to-shoulder rather than face-to-face (going for a walk can be a good option). Often men are more open to talking without eye contact
Instead of talking about "feelings", talk about "goals and solutions"
Talk about getting help as a sign of strength, "taking control" and "getting back on track"
Approach the conversation in a friendly and familiar environment, perhaps at a sporting or outdoor location.
Where to get help
Here are some places where you or your loved one can get support for mental health recovery.
BeyondBlue: if you're feeling anxious or depressed. Call 1300 22 4636 or chat online
SANE Australia: if you're living with a mental health condition. Call 1800 18 7263
At Ease: Support for veterans, ADF personnel and their family (online help)
Black Dog Institute: for mood-related conditions (online help)
Suicide Call Back Service: if you're thinking about suicide. Available 24/7. Call 1300 659 467
Lifeline: if you're having a personal crisis. Call 13 11 14 or chat online
MensLine Australia: for help from a professional counsellor. Call 1300 789 978 or chat online.
For information on our mental health support services, as well as our aged-care and disability services, get in touch on 1800 264 268 or at chorus.org.au.