Chorus Voices Ep 15: A family living with dementia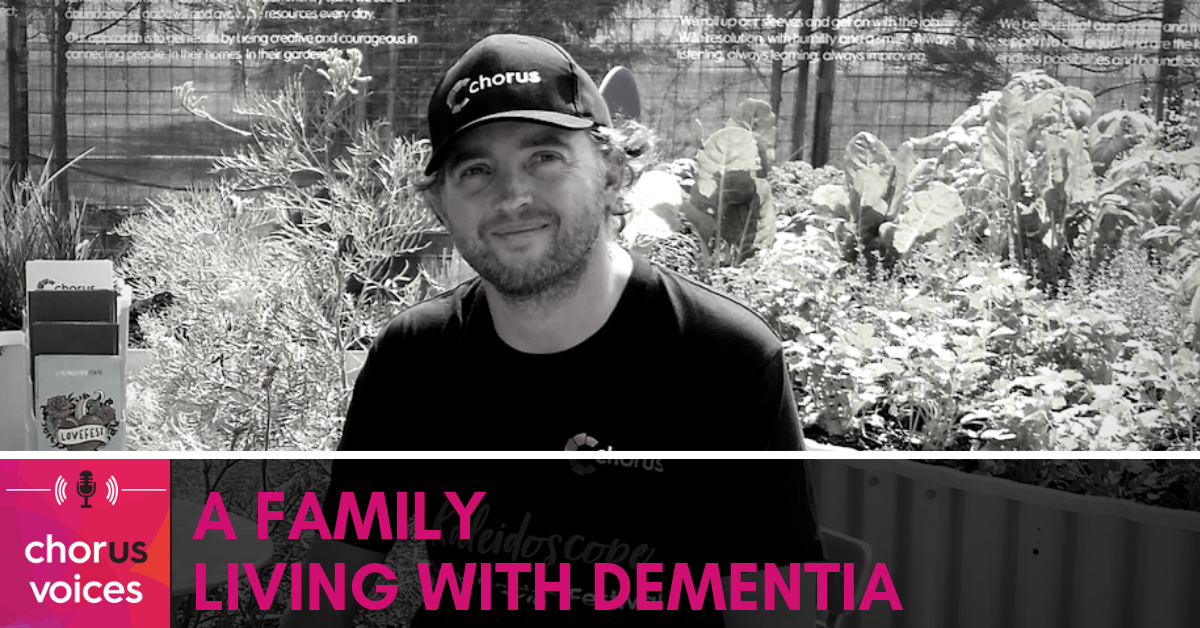 Dementia affects the individual, the family, and the community surrounding it. Understanding all these components is key to providing effective care.
Podcast host Dan Minchin frames this challenge:
"I think the growing challenge is understanding that dementia doesn't just impact the person, it really impacts everyone around them. As dementia progresses, the person with dementia has very changing needs, and can end up in their own world. And for the people in the family – they may feel the grief around losing someone in their family."
– Dan Minchin
During Dementia Awareness Month, Chorus tells the story of a family living with dementia.
Listen Now

Or listen on: Apple Podcast | Spotify | YouTube
Kath's Mum is Living with Dementia – [2:00]
Kath is a Chorus volunteer, and part of a family who is living with dementia. She spoke with Judith Hatton.
We hear what life has been like since Kath's mum was diagnosed several years ago. We trace the story from when Kath first found out about her mum's condition, to when she decided to become a primary caregiver for her mum, to present day, when Kath's mum is in care.
The initial diagnosis was tough – it was hard for Kath to accept the changes to her mum's behaviour and abilities.
Becoming a primary caregiver was even tougher – the effort of looking after someone full time took a toll on Kath and her family.
Having Kath's mum in a care facility has been a great relief, but is difficult at the same time. There's less contact now, which means less work and less stress, but there's still a strong urge to help as much possible, and Kath's heart goes out to her mum, making it hard to relax.
Through all the hardship, Kath's love for her mum shines through. Next, we hear from another person she loves very much: her son, Paul.
Paul's Nana is Living with Dementia – [8:00]
We speak with Paul – another long-term Chorus volunteer – and hear how living with dementia has affected his life.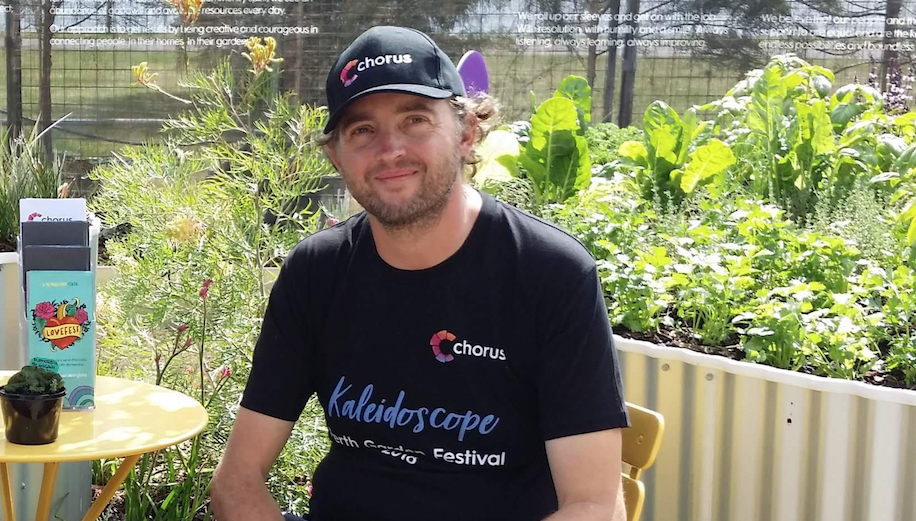 Paul volunteering in the Chorus dementia-friendly garden at the Perth Garden Festival
We ask first what it was like to find out his Nana had dementia.

"A lot of confusion. We've never had dementia in the family before. When she started forgetting and getting frustrated, it started hurting pretty badly. It was putting my mum underneath a lot of strain. I miss my Nana, and how she was before. It's very hard to cope with."
But now that his Nana is in hospital, things have been a bit easier for Paul.
"[Having her in the hospital] is starting to help now. Mum and dad are home a lot more – I hate being home alone."
"It still gets to my head. If I go to the hospital and help feed her – I literally have to tell her to pick up her fork and knife in order to eat her food."
Through all this change and hardship, Paul has had big shoes to fill. He helps support his Nana. And because his parents have had so much more on their plate, Paul supports them too.
"Now that Nana's getting the best care, I want to look after my mum. [Looking after Nana has taken a strain on her]. I just want to make her feel strong again."
After hearing their story, it's clear that Paul and his mum Kath are part of a loving and devoted family. It's also become clear  – or at least a bit clearer – exactly how big the challenge of coping with dementia can be.
Takeaways and Conclusions – [15:00]
What we've heard today is a real and raw version of what goes on for a family living with dementia.
There's struggle and hardship there, but also there are really uplifting stories about the power of personal relationships and staying connected.
"Listening to Paul, his relationship with his Nana is so deep and profound – that speaks to the power of connection and community."
– Louise Forster
Another important takeaway is to recognise how personal the experience can be – and how society sometimes misses that point in its attempts to provide care to the public.
"The way society has industrialised the support and care of older people – it just completely misses the significance of those sorts of relationships, and the wisdom and joy that can come from relationships across the generations. I think in many ways, the opportunity to rethink that as a society is happening. There's much more awareness of the risk of leaving people isolated and disconnected. At Chorus, we talk about enabling people to live the life they choose. That has almost always got an element of family, connection and social network behind it – whether the challenge is dementia or something else."
– Dan Minchin
Mentioned in This Episode
Connect With Chorus
Credits
Podcast Hosts: Dan Minchin and Louise Forster

Opening Voiceover: Ryan Burke
Opening Music: Wattlebird by Dylan Hatton Music
Producer: Matthew Clark
Interviewer: Judith Hatton

Special Thanks To: Interviewees Kath and Paul Carthew