Chorus Voices Ep 10: Mental health recovery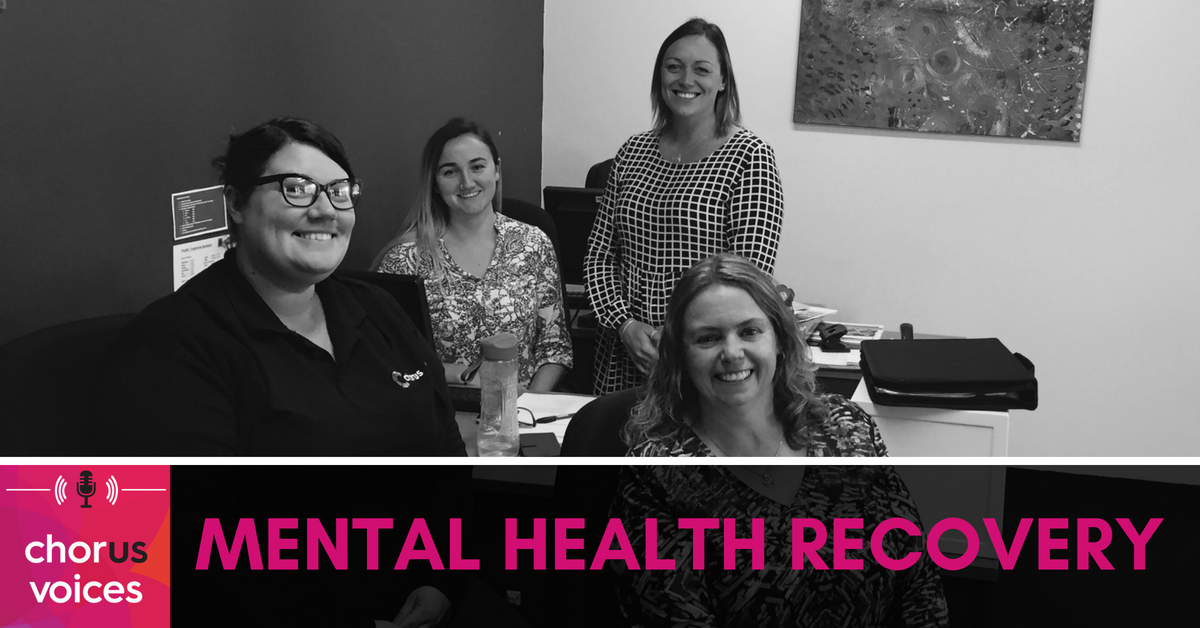 Chorus is all about enabling people to live the life that they choose, and mental health support is a big part of that.
Today, Dan and Louise discuss mental health at Chorus and how the philosophy "walking beside someone" is revolutionising the way mental health service operates. Let's talk to some of the people involved in bringing about change in mental health services.
Or Listen On: Apple Podcasts | Soundcloud | LibSyn | Spotify | YouTube
The Mental Health Recovery Journey at Chorus – [0:00]
The Chorus philosophy is focused on recovery and the belief that people living with mental health issues can and do get better. We all experience varying levels of mental health over the course of our lives.
Dan was down in Bunbury, Western Australia recently and spoke with Jerry Caruana to get his take on the philosophy.

Chorus Mental Health Philosophy – [1:30]
Jerry is the manager at Bunbury's Chorus Mental Health Services. Dan meets with Jerry to understand what the Chorus philosophy means to Jerry and how he applies it day to day.
Dan asks Jerry: Can you tell us more about the mental health philosophy?
"The philosophy for mental health services is that people can – and do – recover from mental illness. Mental illness can impact anybody at any time. Today we might be helping and supporting a client but tomorrow it might be one of us that needs the support. The way we approach it is that we don't treat anybody differently. Everybody is treated the same. We value everybody that walks through the doors. Whether that person is struggling with a mental health condition or whether it's the CEO, it doesn't matter who walks through the door. We greet and welcome people the same and we treat them with respect, and value their life experience because we can learn from every one of our clients."
Jerry is blown away by the transformation in people he witnesses every day. Over the years, Jerry has been interviewing customers and recording on camera their journeys and how their recoveries are progressing through the program.
Collectively, people in the program feel valued and equal. Jerry notes that in a medical environment people can feel inferior and judged by those around them. Whereas in the program customers don't feel like patients, which itself helps people develop better self esteem and belief in themselves.
"We give them a sense of hope, which is extremely important in mental health recovery. People want to know going into the program that there is a strong possibility that they will recover." – Jerry
Recovery is different for everyone. It's something we need to embrace. Recovery is subjective and interpreted differently by everyone. For one person it's the ability to leave the house and walk to the letterbox. To another, it's reconnecting with their social groups.
"If we treat people right and hold out hope for someone – sometimes hope they don't hold for themselves. If we believe in them, and present opportunities and options and allow them to make choices then people progress really well" – Jerry
To aid someone through recovery, we need to walk beside them. That's where true recovery happens.

PHaMs Program – [6:00]
The PHaMs (Personal Help and Mentors) program run by mental health services in Mandurah, Western Australia. The mentors work with groups of younger people aged 16-24 and offer support through their mental health journey.
Louise meets with mentor Jess to explore the PHaMs program.
Jess coordinates the youth group run by Chorus in Mandurah. Jess works to promote social inclusion and helps customers to experience new things out of their comfort zones.
So far this year the group has gone to the Maritime museum in Fremantle, on a bushwalking trip, and indoor trampolining. The program is all about creating opportunity for people to give things a go.
Louise asks Jess: "Is it collaborative with the group?"
"At the beginning of the year we meet and have a planning session where we scribble some ideas down then try and come up with a timeframe when we're going to try what. We try to empower them to make decisions about what they want to do or not do." – Jess
Jess gets a lot of satisfaction out of working with the youth group. She loves seeing the change in people.
"They might come to youth group that day in quite a down mood, so it's good to see them interacting with the people and watching their moods lift, relax and just be comfortable participants."
Supporting young people through mental health problems early in their life is important. The program works to create opportunities and experiences for the participants to grow from, and connect with others about.
UCook Program – [10:00]
In the world of mental health care, there is sometimes a disconnect between providing a service and bringing about real life change. Unless you're listening – you can't effectively act.
In an effort to make a difference, Rebecca from the Chorus Mental Health Service in Mandurah has developed her own program from identifying a need expressed by customers. Louise meets with Rebecca to discuss the UCook program.
Louise asks Rebecca: "Could you tell us about the UCook program that you coordinate, and what your goal was?"
"Clients identified that they had no cooking skills. I did some training with the food bank to learn how to deliver a program around cooking with limited resources that is cheap fast and easy. Alternatives to fast food." – Rebecca
Rebecca used her training to develop the UCook program to run through the Chorus Mental Health Service.
"We don't have a kitchen here, but we do have a sink. So we purchased some convection ovens and some frying pans and everything we cook is with the resources that we have." – Rebecca
Through the program, participants develop relationships with others in the group.
Louise asks: "How important do you think informal support is?"
"So important. We find that a lot of our clients are socially isolated, those people suffer from depression or anxiety. The little connection between like-minded people is helpful. Gives them something to look forward to every week." – Rebecca
Rebecca runs four programs over the year that last for 12 weeks each. The whole group of programs is called "Collective Souls". The group runs art therapy, cooking, music and an upcycling project.
Key to recovery is identifying what customers need to grow. Participant Jeremy shares what Rebecca has done for him.

"It's brought order and structure to my life" – Jeremy
If Rebecca isn't available, there is always someone else for Jeremy to speak with. The program has been "life saving" for him.
Thanks for Listening!
Thanks for tuning in to this episode of the Chorus Voices Podcast.  If you find yourself inspired by these stories, head to our website and learn more about what we're doing.
If you enjoyed this episode, please pop into Apple Podcasts and leave us a review! Thanks for listening, and we'll see you next time.
Mentioned in This Episode
Connect With Chorus
Facebook: https://www.facebook.com/chorusaus/
Instagram: https://www.instagram.com/chorusaus/
Twitter: https://twitter.com/chorusaus