Becoming homeless, or being at risk of homelessness, can happen to anybody — including seniors and those already receiving aged-care services.
According to the 2016 Census, 16 per cent of homeless people are aged over 55 years. That doesn't mean they live on the streets, which is the image the term "homeless" probably conjures up. But it does mean they have an unsuitable or unstable living arrangement — and one that could be seriously impacting their health.
Cecille's story
Cecille is 76 and was in hospital for several months with a serious illness. Instead of living alone when she came out of hospital, Cecille gave up her unit to live with family.
Things didn't go as planned. Cecille felt unsafe and uncomfortable in her new accommodation. Some of her money went missing and she was very unhappy. "I've never been so low in my life, not ever," she said.
When the family decided to move, there wasn't much room for Cecille. Cecille's future looked bleak. She phoned Chorus and spoke to Gloria, who was there within 15 minutes. Cecille moved into shared accommodation arranged by Chorus the same day. "It was a stepping stone to getting back into my own place," Cecille said.  According to Cecille, Chorus saved her life.
"In the mean time I fell over and fractured my humerus, so I was in hospital for another eight weeks" said Cecille. "When I came out, Gloria had arranged for the unit I'm in now, and for my furniture to be moved in."
Cecille has mobility issues so safety was a big concern for her. Her new unit was exactly what she was looking for. It was small, tidy with no carpet. There was a step at the front door and Chorus organised for a small ramp to be installed.
Cecille is a volunteer who has knitted hundreds of beanies for people living with cancer, and booties for newborns. She knits incredibly fast and donates everything she makes. She is also very talented at tapestry and has hung some in frames around her new unit.
Recently Cecille joined Chorus BeConnected-  a program for seniors to navigate the online world on iPads and iPhones. She's very excited to be getting an iPad for her birthday! Sheena, who teaches the program, thinks Cecille will excel on the iPad because she's already so creative.
Cecille also uses other Chorus services including shopping and meals from Chorus Kitchen.
"It has changed my life," she said. "I can get up in the morning and I can breathe in and out and feel good."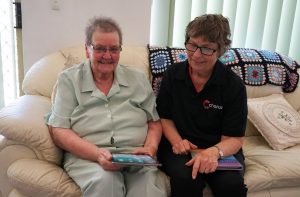 The risk of homelessness for seniors in Australia
Chorus Aged Care Homelessness program manager Craig Hanlen said there are many reasons a senior might be at risk of being homelessness.
"They could be people in hospital who don't have anywhere to go," he said.
"They could be couch-surfing with other people. Perhaps they have been staying with family, but the family don't want them there or they don't want to be with the family anymore. Elder abuse is not uncommon, but every situation is different.
"The most common situation we see is social isolation: people with minimal or no family or social networks; who have no people to fall back on."
Craig said the objective of the Aged Care Homelessness Program is to support those who are homeless or at risk of homelessness to access appropriate and sustainable housing as well as community care and other support services.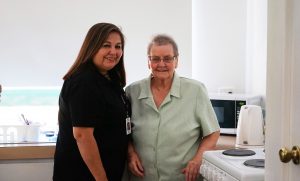 What happens after a referral to the Aged Care Homelessness Program?
When a senior is referred to Chorus, Craig said action is taken quickly to assess their situation, needs and expectations.
"We do a referral for people in the Government's MyAgedCare portal, then there's an assessment to see if they meet the criteria before they're referred back to us to work with them.
"We will do research with people about accommodation options," he said. "We'll look all the things that are required until they find a place.
"We'll go with them and fill out their bond and rental applications; we'll take them to see properties and agents; we'll take them to Centrelink to get income statements."
"Once we've got people into stable accommodation, we go back into the MyAgedCare system and do a re-referral and have them assessed for the other services they might need, like domestic assistance, lawn mowing, and so on.
"We help link them back into the community, too."
If you are a senior, or you know a senior, who is homeless or at risk of homelessness, call Chorus on 1800 264 268.