The benefits of volunteering are endless, not only for the people receiving help from others but also for those giving their time.
At Chorus, volunteers are essential to the organisation because without them it would be impossible to deliver our aged-care, disability and mental health services.
There are volunteering opportunities across a broad range of areas for people keen to make a difference. If you've ever thought about volunteering but are not sure where to start, here's what you need to know!
About Chorus volunteers
Chorus has more than 600 volunteers, including 340 regular and active volunteers who, along with corporate volunteers and school groups, give their time throughout the year.
Chorus Group Manager Volunteering Emer Duggan said volunteers are integral to Chorus and are the heart of the organisation.
She said volunteers can contribute whatever time they have available, from a few hours a fortnight to the maximum of three days a week. The rewards are evident not just for the volunteers but also for Chorus customers, who are able to live more independently thanks to someone's help.
"The biggest thing about it is giving back to the community and seeing the impact they've made to the lives of the customers that they are supporting," she said.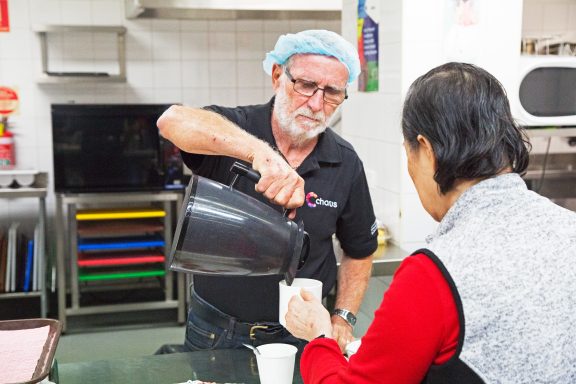 Do you want to find local volunteer opportunities?
Chorus has many volunteer opportunities in WA and makes every effort to match volunteers with customers based on convenience, location and mutual interest.
Where can I volunteer? If you have the time for volunteering work here are some areas you can volunteer in:
Gardening. Operating from our five depots, volunteers work with the gardening team helping customers with the general upkeep of their gardens, including Water Wise gardens
Social Support. You work directly with customers, helping with errands such as shopping, or supporting them on outings or through home visits
Office work. This involves helping with administrative duties at one of the Chorus offices
Driving. Drivers are a vital link between customers and the community, helping to transport them to appointments or run errands
Mental Health Recovery. If you have experience with recovery from a mental health condition, you can inspire and help others through the Personal Helpers and Mentors Program
Chorus Kitchen. You can either become a driver — delivering fresh, healthy meals to those unable to make their own — or get busy preparing and serving meals in our dining room.
Emer said new volunteers are always welcome in all of these areas, but Chorus is particularly keen to add to its gardening and home maintenance team and is also looking for transport volunteers in the south/south-west metropolitan region.
She said volunteers are not restricted to one activity and can work across all areas.
How can I become a volunteer at Chorus?
Becoming a volunteer is as easy as emailing volunteering@chorus.org.au with your name, phone number and email address, and which area you are interested in, or calling Chorus on 1800 264 268.
Emer said all volunteers are given an induction as well as a combination of online, face-to-face and on-the-job training specific to their role.
Volunteers are reimbursed for any travel expenses incurred and covered for the cost of lunch.
The best things about volunteering with Chorus
Want to know what it's like to be a volunteer? We asked two volunteers to describe their experience at Chorus.
Margaret (Gardening Volunteer)
Joined 2017
I love going into people's gardens and being able to give them a bit of a trim and a tidy up, and you look back on it when you're leaving and you think 'that's a big improvement'.
"It's kept me interested and engaged with what's going on. You meet some lovely people who actually all care and volunteer there, and I met my new partner through there, so that was quite nice!
Steve (Transport Driver)
Joined 2016
The best thing about volunteering is the social interaction and being there for the people, because sometimes we're the only person they've seen all week.
"I would recommend it, especially if you're semi-retired or retired; it's a fantastic thing to do. You actually miss (the customers) when you're not doing it.
If you want to join the Chorus team of volunteers, get in touch at 1800 264 268 or chorus.org.au to find out more.