NDIS Support
Are you eligible for funding under the NDIS? If the answer is yes, here's what to do next to get on board with Chorus Disability Services.

Am I eligible?
Before starting the NDIS application, find out if you are eligible for NDIS funding and what alternatives there are if you are not. Click here for a quick view on eligibility. Some of the main criteria are:
Aged between 7 and 65
Live in Australia and have Australian residency
Have a permanent and significant disability
Use special equipment or need support
Visit the NDIS website for more information about eligibility here.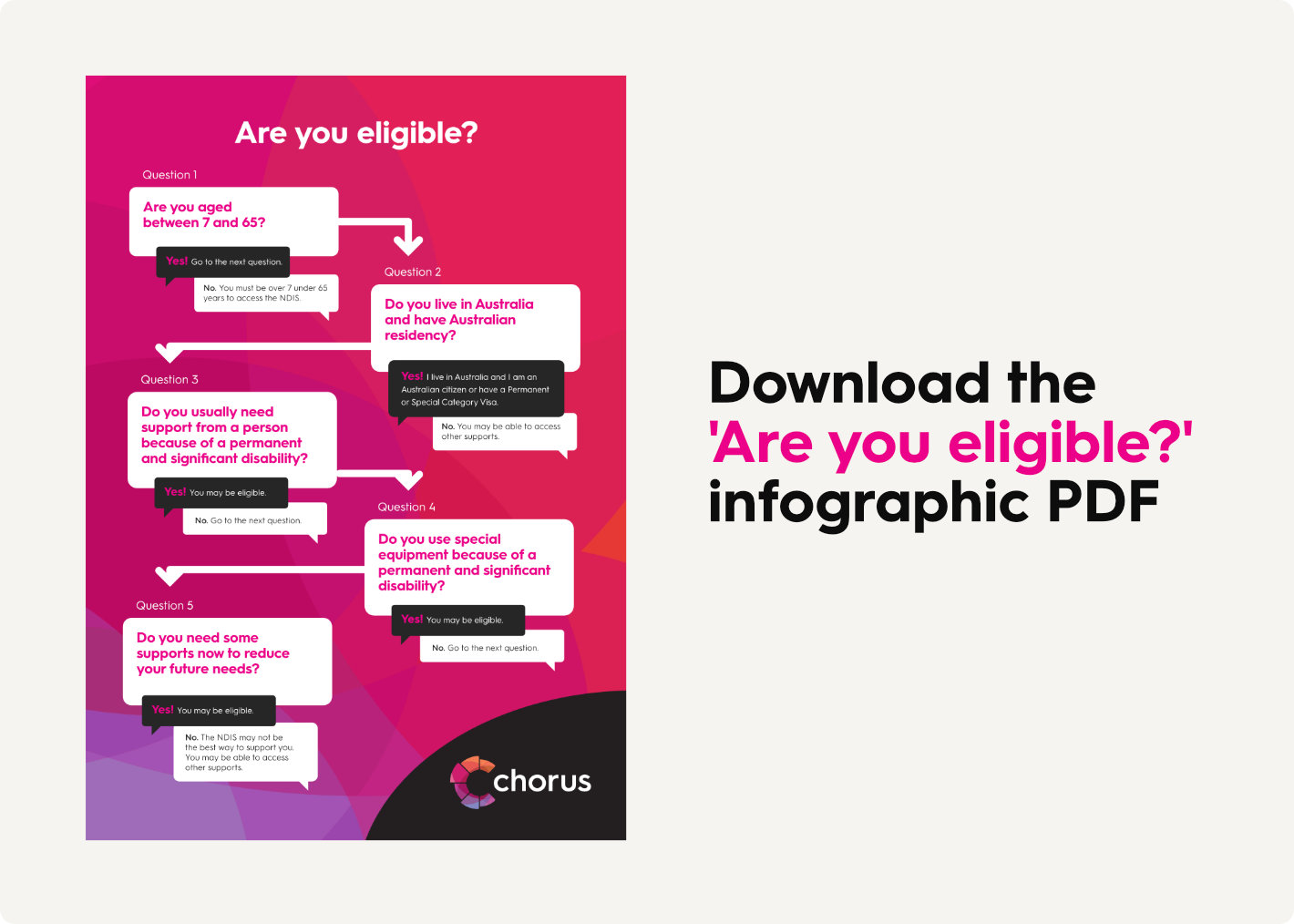 Applying for NDIS funding
Applying for the NDIS can be a long and at times difficult process. It is worth it though, with lifelong assistance at the end. There are many resources available on the NDIS website including a step-by-step guide on to how to apply and where to get extra help from an NDIA office or Local Area Coordinator (LAC) partner. Visit the NDIS website here for more information on how to apply.
Getting the most out of your plan
We don't try to squeeze you into a box that someone else has designed. Chorus can help you create a plan that works for you, including:
Identifying the service you need.
Coordinating and liaising with other service providers if required.
Managing your supports within your budget.
Chorus works with you to manage and review your plan as your needs and goals develop. Call us today on 1800 264 268 or complete the form below.
Contact the Chorus NDIS Support team
Want Chorus to contact you at a time that suits you? Fill in your details below and one of our team members will be in contact.
The Chorus promise:

We love our work and it shows in the way we treat everyone.

We do what it takes to solve a problem by rolling up our sleeves and getting the job done.

Our staff and volunteers connect people with communities.

We bring fun and friendship to our work.