Chorus Home Care Packages* are delivered to people who require a level of aged care but are still able to live in their own home. Funded through Government subsidies to different levels depending on your needs. Chorus is proud to be able to support Perth and South West WA seniors stay independent in their own homes, through the support our Home Aged Care Packages provide.
What is a Home Care Package?
Home Care Packages (HCP) provide a range of flexible, individually tailored services to support seniors to live independently at home if your needs become more complex as you get older. You may be eligible for one of four "package" levels, ranging from basic to high-level care needs.
If you need help in your home or garden, getting out and about or would like to take part in social and wellness activities, our team is ready to create a program for you. At Chorus, we deliver a home aged care program that helps you stay in your home for as long as possible. Our individually tailored services offer a range of services so that you can remain active and connected to friends, family, and the community.
Chorus can also help with your personal care needs. In addition, our Clinical Nurses will provide clinical advice, assistance and support as required.
Chorus provides Home Care Packages for seniors throughout Perth and south west WA. As an accredited home care provider, with Chorus, you are in control of the support you need.
Home Care Packages with Chorus
Who is eligible for Home Care Packages?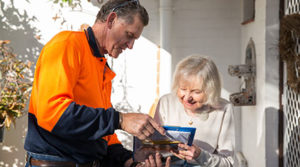 To find out if you are eligible for a Home Care Package call us on 1800 264 268 or email hello@chorus.org.au.
To access a Home Care Package you will need to be assessed by an Aged Care Assessment Team (ACAT). This free assessment can be requested by you, your family, your service provider or GP, who will determine your eligibility. Allocations are prioritised based on assessed need and the level of care ranges from basic to high.
*Care Options, through the merger with Volunteer Task Force and Community First, are the approved provider of Home Care Packages with Chorus.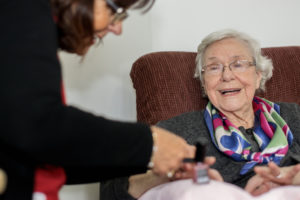 How much will I pay?
There are four levels of Home Care Packages. Each level provides a different subsidy amount funded by the Australian Government, which is paid to the approved home care provider that you have chosen. The subsidy contributes to the total cost of your service and care delivery.
You will need an assessment in order to access government subsidised home care. You may also need to contribute towards the cost of your care. Your fee will be determined based on your age pension or other income.
Live the life you choose
We love our work and it shows in the way we treat everyone.
We do what it takes to solve a problem by rolling up our sleeves and getting the job done.
Our staff and volunteers connect people with communities.
We bring fun and friendship to our work.
We listen and learn. We are always trying to improve.