UPDATE: Chorus has been working on merging three companies — Care Options, Volunteer Task Force and Community First — under one banner. We have been operating as Chorus for more than a year and we continue the process of merging all our internal systems, processes and procedures. It's a big job and we're nearly at the end. Ultimately these changes are designed to make life easier for you and all Chorus customers. For more on these changes click on the image below: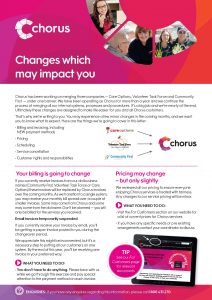 Click on the bars below to find a list of forms and policies for Chorus customers.
If you are looking for something not listed here, please call us on 1800 264 268 or complete the contact form below.