Volunteering is central to everything we do at Chorus. Every year more than 700 people freely give their time to help us deliver outstanding community service to seniors, people living with disability and those in mental health recovery.
They're a fun, talented and unique bunch, and we couldn't do what we do without them.
We welcome volunteers from all walks and stages of life, including corporate volunteers. Whether your organisation has a formal corporate social responsibility program that runs throughout the year, or your team wants to spend a day giving back to the community, there are opportunities to volunteer at Chorus.
Corporate volunteering opportunities at Chorus
Chorus has three main corporate volunteering opportunities in Perth and WA.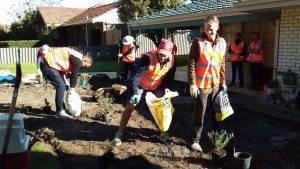 Gardening
If a "backyard blitz" sounds like just the kind of opportunity your team would jump at, then volunteering in our gardening area promises to be a fun occasion to make a big difference to one of our customers.
We often need groups of up to 10 people to help our gardening teams maintain or upgrade a customer's garden. This can be a moving and rewarding experience for our corporate volunteers; transforming a garden can help transform a customer's life by making it more accessible and suitable for their needs.
Meals on Wheels
Chorus Kitchen is our "Meals on Wheels" service. Every week we prepare thousands of fresh meals which are delivered to our customers by our volunteer drivers.
It's an important service that helps our customers continue to live independently in their own homes, and being a volunteer driver is a very social job – as many of our customers love a chat!
If you have an individual or several individuals looking for a corporate volunteering opportunity with Chorus, Chorus Kitchen is ideal.
Activity Centres
Chorus Activity Centres provide excellent corporate volunteering opportunity for small groups.
Volunteers can plan or take part in any number of activities — from taking groups of customers on an outing to cooking a barbecue lunch. Have a chat to one of our Volunteer Engagement Coaches about ways you can help.
Corporate volunteering: why choose Chorus?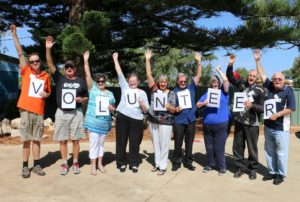 Some household name organisations, including HBF, Westpac and RAC, have donated their time to Chorus. But whether you're a large company or a small group, we always welcome volunteers.
Chorus Volunteer Engagement Coach Michelle Williams said organisations can volunteer on a once-off occasion or on a regular basis.
"You see the change in the volunteers," she said. "Often when they come back from volunteering they will put their name down to come back again straight away.
"It's a really good opportunity for people to feel like they can give back in some small way and it's beneficial for everybody, all round."
That includes the company or organisation encouraging and enabling the volunteering.
The benefits of corporate volunteering include:
Employee engagement and retention – volunteering drives morale, which can help improve productivity and even profitability, and reduce staff turnover
Improved corporate visibility – volunteering is good for your corporate reputation
New employee recruitment – the fact you encourage volunteering says a lot about your business and values, and that may attract potential employees
Teamwork and skills development – volunteering in groups encourages your team to work together in new ways, while learning new skills.
Chorus sees the benefits of corporate volunteering in action every single day and is a wonderful way to give back to your community. It is also an opportunity for that engagement with customers that  organisations wouldn't necessarily get normally with customers saying things like "I've paid my fees to Westpac my whole life and now they're coming to do my garden!"
Interested in corporate volunteering with Chorus?
If you and your team are ready to take the plunge, the first step is to get in contact with Chorus. One of our Volunteer Engagement Coaches will get in touch with you for a chat about how many people you have, where you are, and what kind of volunteering activity you'd like to do.
There's a little bit of paperwork, including volunteers filling out a statutory declaration (in lieu of a police check), and a backend liaison between our coordinators and our customers. To allow time for this, we normally need a three-week lead-in time.
For more information about our corporate volunteering opportunities in Perth and WA, contact our volunteer coordinators: volunteering@chorus.org.au.