Chorus CEO Dan Minchin's monthly reflection on how we are putting the community back into community service.
April 2020
One of the things we are conscious of in testing and refining the "fresh approach to community service" is that, paradoxically, it's not that new.
In fact, the fresh approach philosophy is built on some of the most ancient principles of humans flourishing: once basic needs are met, humans are at their best when they have purpose, humour, connection and community.
At Chorus, our guiding idea is that community services – for so long transactionalised and compartmentalised – can and should be based on authentic human relationships and neighbourhoods of support. (I talk more about the fresh approach itself in my March 2020 blog.)
Not only is the idea not new; neither is the practice. In fact, when we adopted our new identity in 2017 – Chorus: a fresh approach to community service – we drew on values and priorities which already present in our organisation, and around the world.
All of this was reflected in our founding manifesto (click here to view full copy).

Nothing brings all of this into stark relief like a crisis. The COVID-19 meteor has crashed into our lives, leaving no stone unturned in its disruptive wake. Every element of our work at Chorus has had to adapt to repeated waves of change – and fear. After all, we need to continue to meet essential needs while keeping ourselves and each other safe and well.
But the most amazing aspect of the whole thing has been the spontaneous and heart-felt emergence of the fresh approach. It is not a hyperbole to say: Chorus was made for this moment.
This is not intended to sound self-congratulatory. Far from it.
All people in the Chorus community have felt the strain and the pain. While employment is relatively secure, we have made many difficult decisions with real-life consequences. Some customers are going without services (or having to adapt to different modes of engagement), tolerating disrupted schedules and – in many cases – now living in extreme physical isolation. Some staff remain frightened of the risk they face in going about their work; others find the experience of working from home isolating and even unsafe. Chorus people have adopted technology and process changes in a month which would normally take a year. Some people are running themselves ragged procuring safety equipment and other supplies; others (including me) have been awake in the night frightened for the health and wellbeing of Chorus people, their families and themselves.
But amidst the tumult – in fact, because of it – the fresh approach has blossomed. People are lending a hand, nurturing connection, finding non-physical ways to stay #togetherapart.
There are examples of this all over the world; here are just a few from Chorus. I've aligned them to the three core elements of the fresh approach
Making Chorus services more localised and relational
Proactively contacted over 500 customers who are particularly vulnerable at this time. Many customers (and staff) have been moved to tears by these heartfelt conversations.
While support services are continuing (with increased safety arrangements) activities have adapted to be more local, more connected and more relational.
Over 200 Chorus staff who were previously office-based are now working from home. Innovative ways of staying connected have sprung up all over the organisation, including three virtual pubs (Moe's, Cheers and Jackrabbit Slims).
Ability Arts, which has closed its physical doors, is mailing colouring templates to clients with a view to producing a montage.
 Activating local neighbourhoods and communities
Chorus Kitchen is doubling its home meal delivery capacity, delivering over the Easter weekend, with over 30 Chorus staff volunteering their time (not to mention the avalanche of new volunteers). We received a generous cash donation, enabling us to deliver to people in need who are not eligible for government subsidies.

Our fresh approach innovation team pivoted away from planned physical activities to trial the "Street Teams" neighbourhood support toolkit. Less than a week after calling for interest, over 35 locals have signed up.
Coordinating the local care ecosystem
"Out and About" pilot in Mandurah (building networks of support to facilitate older people staying connected to their communities) has adapted to a virtual "Ring Ring" approach. This has been coordinated with the local MP, Government and other community-based organisations.
We are building on relationships with the Fiona Stanley Hospital, WA Primary Health Alliance, HBF and City of Melville to establish partnerships and referral pathways within our fresh approach trial zone of Bull Creek.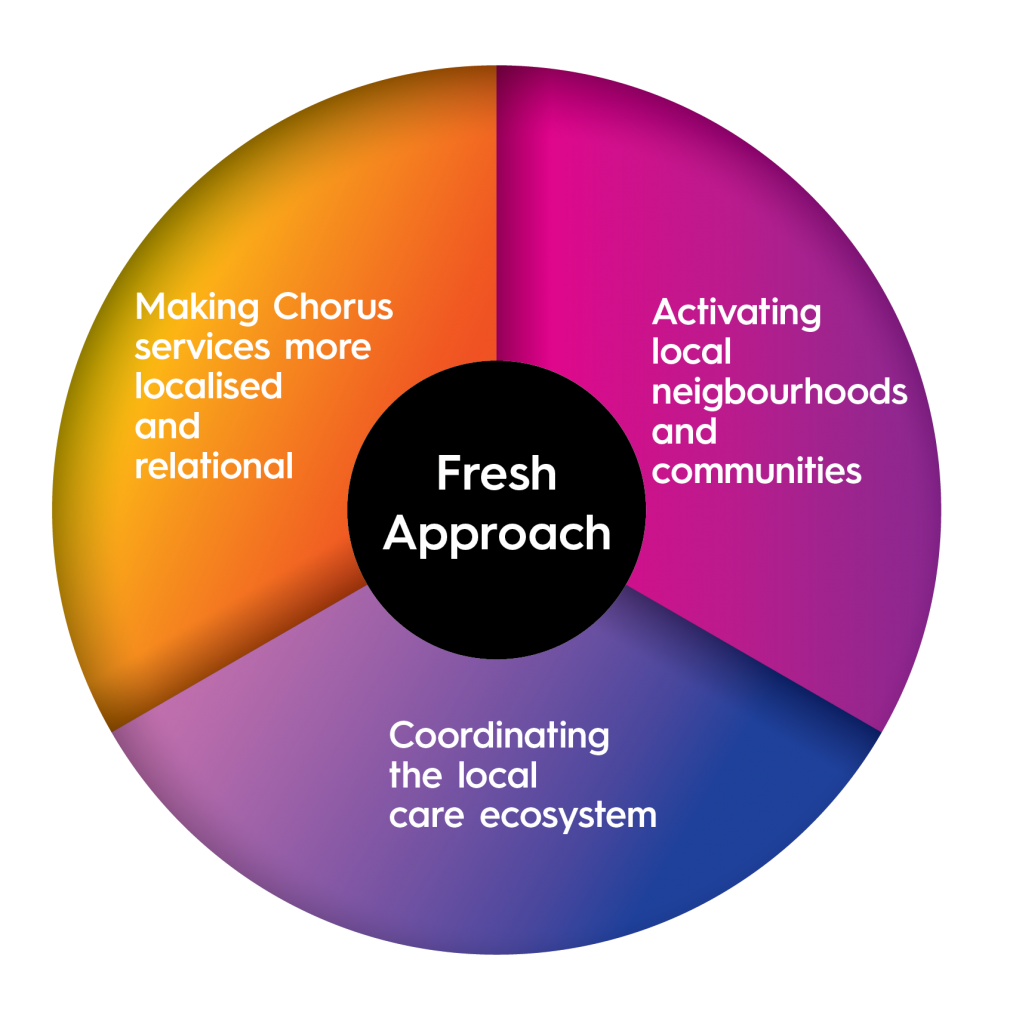 I recently posed a question to Chorus people on Yammer: "Dare to dream… how might Chorus look different on the other side of this?". The responses were uplifting and profound. Here is a highlight (credit – Donna Brown):
Determined, stronger and more connected, I'm finding during this crazy time that although we are working remotely we feel surprisingly more connected, we are making more effort getting to know each other, have more understanding of each other and the roles we do and can play and have adapted so well to so much change, I think anything is possible from here on in