Chorus CEO Dan Minchin's monthly reflection on how we are putting the community back into community service.
May 2020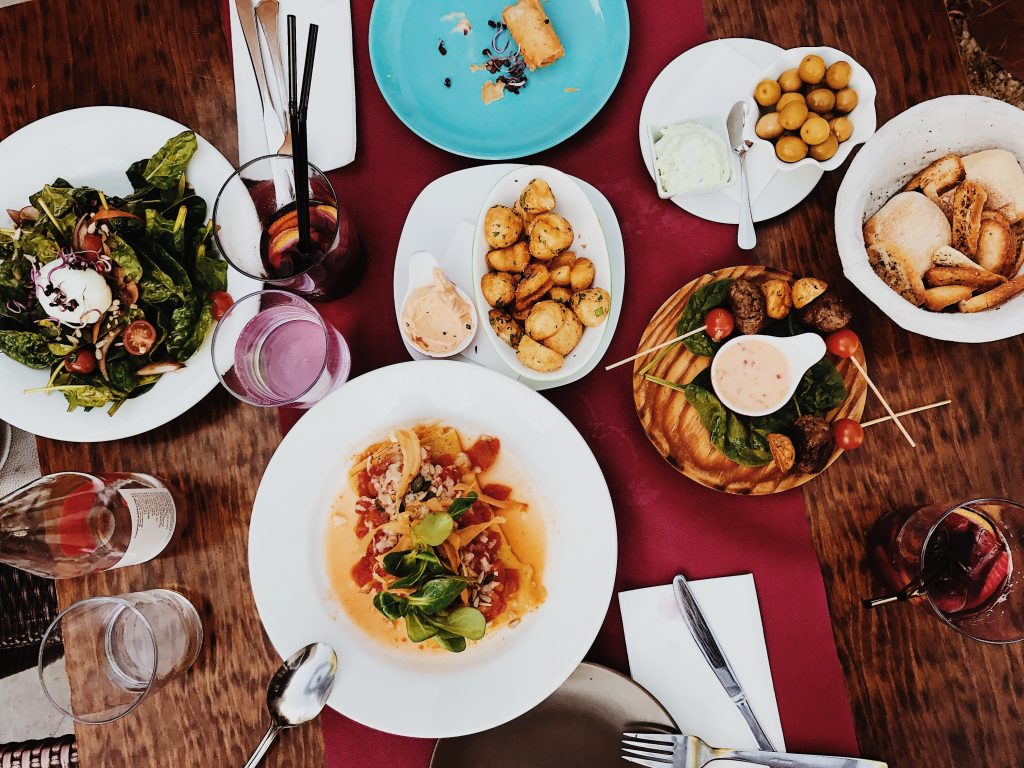 There are few human rituals more habitual than sharing a meal. While eating serves an entirely rudimentary purpose, the social, emotional and psychological benefits of breaking bread with others are at the heart of a good life.
Sharing food is an expression of care and catalyses relationships. It taps into ancient instincts of reciprocity and trust. It is integral to celebration, grief, family, neighbourhood and commerce.
David Brooks wrote about it in a New York Times column entitled "The Power of  Dinner Table". In it, a Washington DC family welcomes struggling kids to regular Thursday dinners, with stunning results. Brooks quotes a weary youth activist, who says:
"I still haven't seen one program change one kid's life. What changes people is relationships. Somebody willing to walk through the shadow of the valley of adolescence with them."
Most of the people Chorus works with aren't adolescents, but the same principles apply. Food is a gateway to people's true lives, both inner and social.
The Chorus Kitchen, which operates in Perth and Albany, is – superficially at least – a meal delivery service. The Kitchens produce fresh meals daily, and volunteers deliver those meals to people at home. In addition, some people choose to enjoy the meal at the Chorus dining rooms. At the very least, this meets mundane but essential nutritional requirements for those at risk of going hungry.
A closer look reveals that the Chorus Kitchen is a multi-layered and rich community network. As Team Lead, Gigi Warren, says: "Chorus Kitchen is much more than a meal delivery service; it's really about social interaction."
The most visible form of connectivity is the relationship which springs up between volunteers and "customers". Often, this enables us to understand and tap into an existing network of support, or to work with people to can find more.
Scratch a little deeper and also you discover the friendship and purpose that blossoms for the volunteers themselves, not to mention the intrinsically rewarding nature of the work for Chorus employees.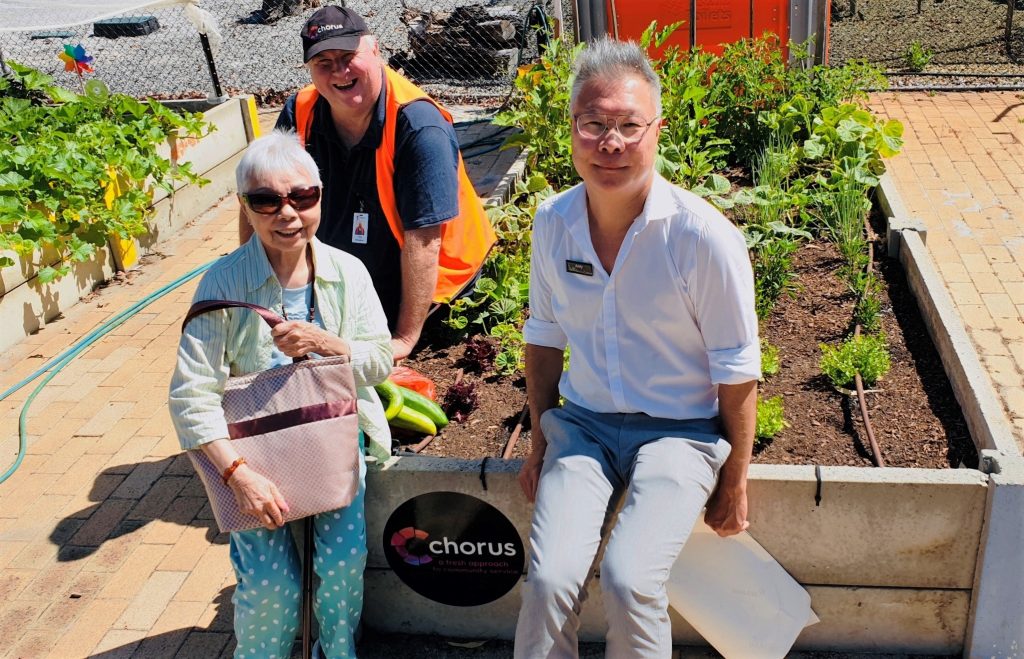 The food itself is merely currency and catalyst for compassion, care and connection.
At Chorus, we are working on what we call our Fresh Approach; putting the community back into community services. The Fresh Approach activates the Chorus purpose of enabling people to live the life they choose. Combining current Chorus practice, inspiration from around the world and our humanistic philosophy, it expands on the traditional community service mindset. We are now seeing ourselves as more than a provider: Chorus can be a facilitator and supporter of local communities and the people who live in them.
It usually doesn't take long for our Fresh Approach conversations to get back to food. Beyond the Chorus Kitchen, it is striking how often our current practice involves communal preparation and consumption of the stuff. Our Bull Creek centre focuses on the many cultures represented in that community, and Chorus people work together on a daily basis to celebrate that diversity through food. Andy Lau and the Bull Creek team have taken it a step further, forming a relationship with a local community garden, and Chorus people can cultivate and harvest fresh produce.
Given the significance of food in everyone's life, then, it is surprising to see how undervalued it has become at both a community (and government) level.
In recent decades, government programs have tended to neglect food services. While "meals on wheels" is a service category for older Australians, the funding of it has become sub-viable, particularly in WA. People living with disability, equally, can choose to include food services in their plans, but this is hardly encouraged. This context has led most service providers to withdraw from meals services, vacating the space in favour of high-volume providers of bulk frozen meals. Meanwhile, the average citizen tends to take food's nutritional and social benefits for granted, and volunteer numbers for meals on wheels have waned.
Declining support for community food services is a prime example of how a key foundation of a healthy existence has been lost in the transactionalisation and commercialisation of civic life.
Interestingly, the COVID-19 experience has – as in many areas – shaken us out of our stupor. To its credit, the Commonwealth Government in April deployed additional funding and increased flexibility for food services. Chorus has been awarded some of this funding to rapidly expand output.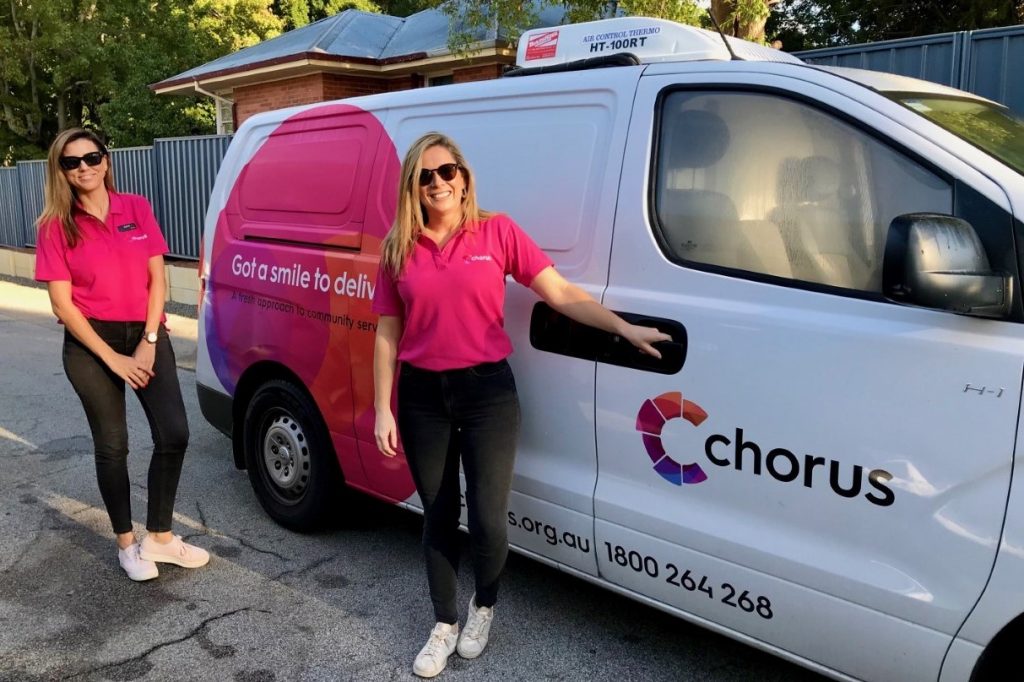 In addition, a Perth family made a significant gift so we could get meals to families suddenly living on the edge but not eligible for Government programs. And we have had an influx of new volunteers wanting to help us out, along with support from Local Governments, MPs and community groups.
This is not just a Chorus experience. Alex Dekker, a 20-year-old Victorian, started Alex Make Meals just a few weeks ago, inspired by his doctor sister's commitment to dealing with the pandemic. Within days, hundreds of people had given money and time, and even corporates have given cash, access to kitchens and help with operations and project management.
From a Chorus perspective, this wave of energy around food creates an opportunity and a challenge. The opportunity is that our fresh approach philosophy is no longer swimming against the "service land" tide – in fact, it has been boosted by the seismic shift in public and private support. We hope to channel this into a sustained reinvigoration of community meals.
The challenge is how we can best grasp this momentum. As we get very busy meeting the sudden increase in both demand and supply, we need to break our own habits and sometimes cumbersome processes. The uncomfortable truth is that, while  Chorus has a sound philosophy and is launching from a positive base, we can also be part of the problem.
We have been offered the chance, very visibly, to practise what we preach.
I am very grateful to Nikki Drury for her valuable input to this blog.