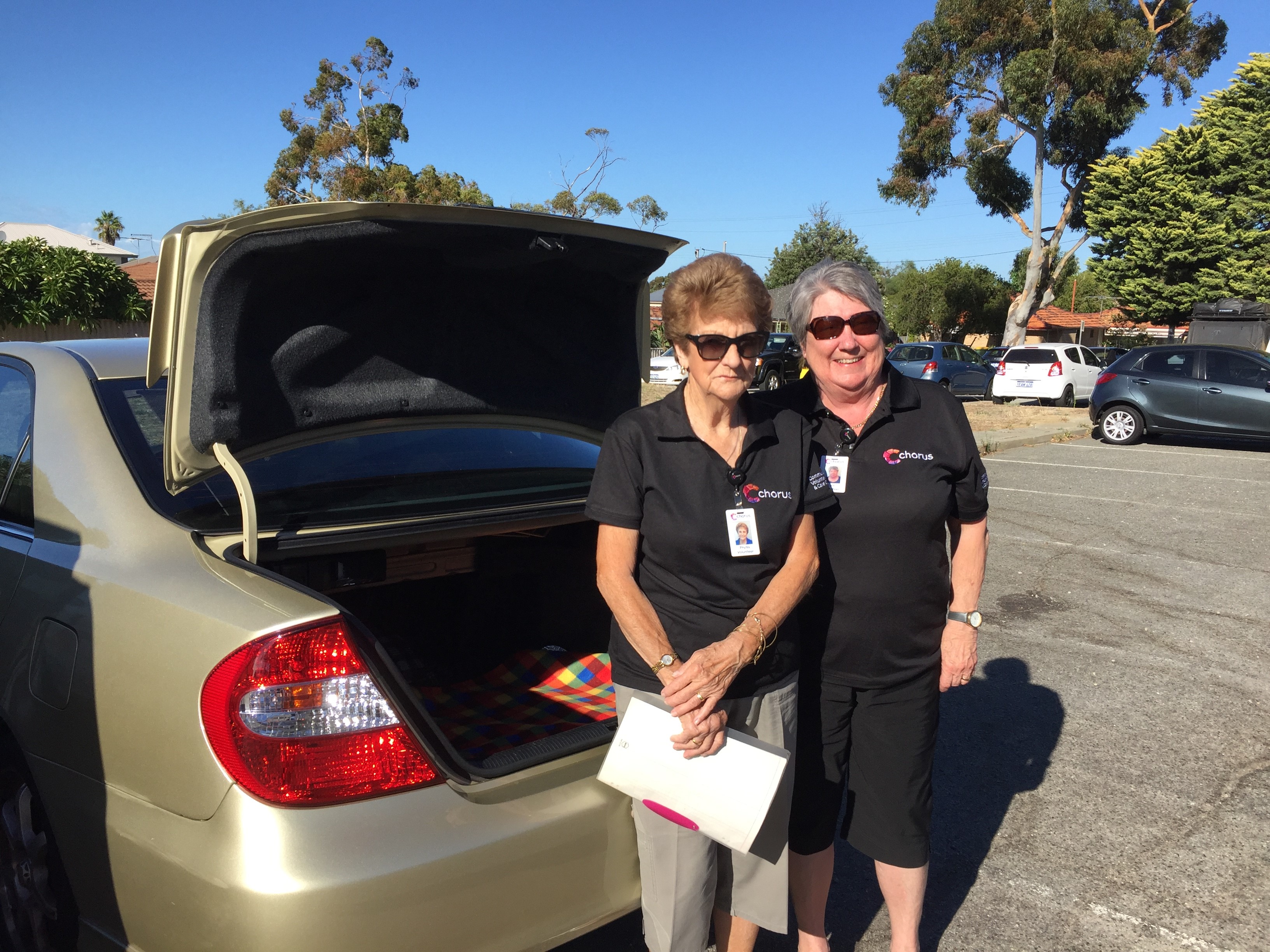 Chorus Kitchen volunteers Phyllis Paganoni and Lois Portelli met in 1995 on their very first Meals on Wheels delivery. The pair deliver meals from Melville to Mandurah every week and have become known as the much-loved 'Tuesday girls' to Chorus customers.
"Once you are retired and have time on your hands, I think it's a great thing to do to give something back to the community," says Lois.  "I believe you really get what you give, and certainly volunteering with Chorus has enriched my life in many ways, not least because I met Phyllis and we have such a wonderful friendship."
The friendship has become much more than just volunteering. "We ring each other up when things happen in our lives," adds Lois.
Through the Chorus Kitchen (Meals on Wheels) program, Phyllis and Lois deliver more than 80 meals to the homes of seniors and people living with disability every month.
"We just fit in with each other," adds Phyllis. "For the first 15 years I drove and Lois was the runner. After my husband passed away and I'd come back, I said: well, you can drive now."
It's a true community friendship. Chorus customer Verna has meals delivered three days a week and went to school with Phyllis's sister. She loves that the pair stop to have a chat and check up on her. "I'm not only happy with the meal, I'm happy with the delivery girls, absolutely!" she quips.
Chorus is a fresh approach to community service and offers flexible volunteering opportunities for individuals and groups, including students, and community and corporate groups. Chorus volunteers work alongside seniors, those living with disability or on the mental health recovery journey. Volunteers can help with gardening, home maintenance, driving, meal delivery, outings, wellness programs, home visits and shopping.
When asked why volunteering is so rewarding, Phyllis replies: "I just love helping people so you feel like you're achieving something."
If you would like to help people live the life they choose, Chorus would love to hear from you. Find out more about volunteering with Chorus by phoning 1800 264 268 or email: volunteering@volunteertaskforce.org.au