Men's health is not something we talk about enough in Australia.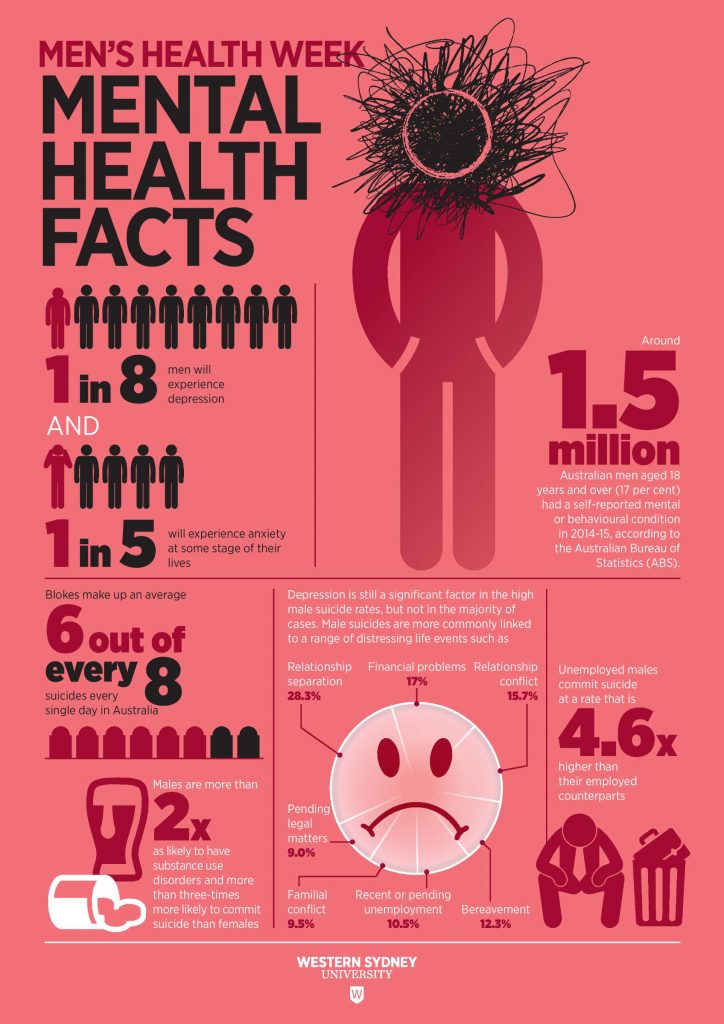 Did you know, for example, that 68 per cent of adult men are obese? Or that only 42 per cent do enough physical activity each week? Or that 48 per cent are living with, or recovering from, a mental health condition?
Maybe these facts, from the University of Western Sydney's Men's Health Information and Resource Centre, surprise you. Maybe they don't. After all, we all know someone carrying a bit of a beer belly. And perhaps we're guilty ourselves of not taking enough exercise.
But the important thing is we need to take time to talk about these issues, so we can start to bring about positive change and also — certainly in the case of mental health — reduce unhelpful stigma.
That time is now! June 15 to 21 is Men's Health Week in Australia.
At Chorus, we'll be marking the occasion by giving the hundreds of men who work with us, either as staff or as volunteers, just that little bit extra attention. Our lead people and culture specialist, Peta Chaytor, said it was particularly important at this time, because of the extra stresses people had been experiencing in response to the coronavirus pandemic.
"I think that's really impacted a lot of people's mental health, so I think this will be a really opportune time to ask the question, 'are you OK?' " she said. "So I think we'll definitely be promoting that message again and really putting a lot of mental health support into men's health week."
Take time out to talk this Men's Health Week
Peta said Chorus team leaders are always encouraged to talk to their teams, to be aware of how everyone might be feeling. Some members of staff are even specially trained in mental health first aid.
"We've been trained to pick up little cues when we're talking to people, to pay attention if we think something doesn't quite sound right," she said. "I think that's a really important thing to have because quite often that will then lead to other conversations and then things are identified where people might need support — particularly men, because they often don't come forward and speak up."
According to the Men's Health Information and Resource Centre, men's health is often thought about in terms of male-specific reproductive health, like prostate cancer and erectile dysfunction, or around topics like suicide. But men's health is about much more than that, and the centre's advocates argue men's health should be about wellness, not just illness — about prevention, not just cures.
Help is always available, even when it's not Men's Health Week
That's an idea we've put into practice at Chorus. Peta said Chorus staff members have access to an Employee Assistance Program, provided by a third-party organisation, which does regular wellness checks with the team.
"We've had some really good outcomes from there," she said. "(The provider has) identified, through the wellness check, staff that have been at-risk. Maybe they're not traveling so well, so we put additional support in place. They'll even on-refer them to other programs, and they'll check in with them regularly."
Sometimes, the support from Chorus comes in the form of a lovely little surprise.
"We also have this really great program called Little Box of Happiness," Peta said.
"It's all about wellbeing. Rather than sending someone flowers, it's actually a box with things like a feel-good book, perhaps a cup with 'happy' written on it, some tea… things like that. We might send it out to staff members who are struggling either physically or mentally. It's just a really nice little box. We quite often send those out."
For more information on our mental health support services, as well as our aged-care and disability services, get in touch on 1800 264 268 or at hello@chorus.org.au