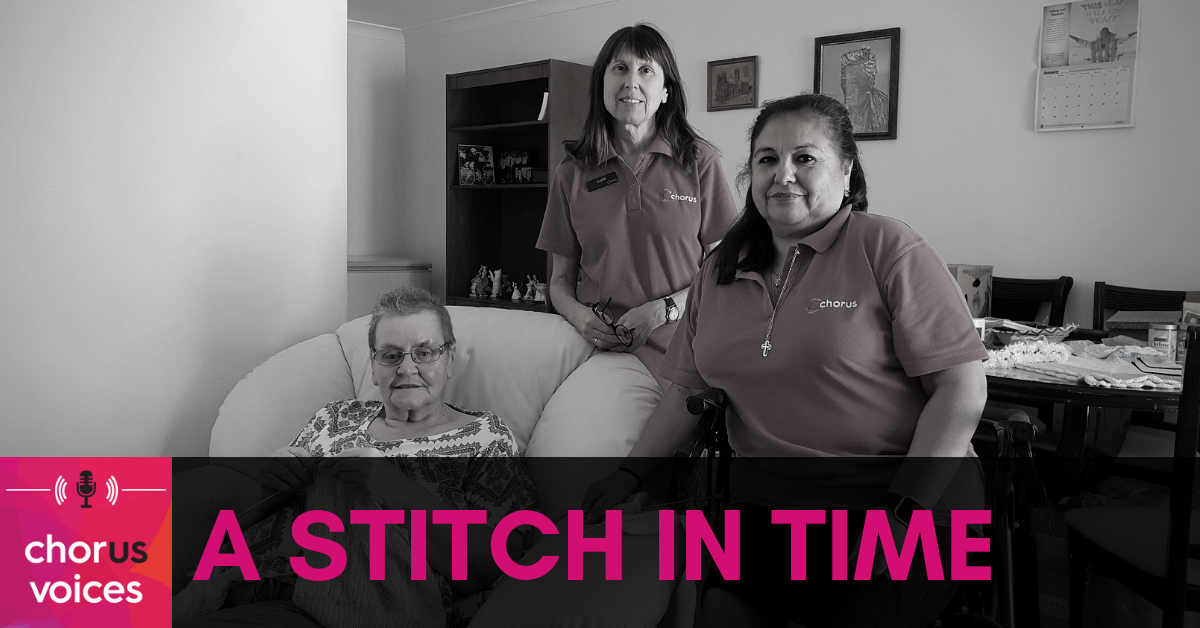 "My daughter and daughter-in-law just absolutely stole my identity and I really didn't want to live."
Listen Now
Or listen on: Apple Podcasts | Soundcloud | Spotify | YouTube
This week Chorus Voices talks to support coordinator Gloria Sanchez and a customer Gloria supported.
Gloria's colleague, Denise had initially gone to see the customer one morning and she immediately contacted Gloria. What Gloria found was a person who had hit rock bottom – somebody who felt as though she had become depersonalised and was unable to function.
"When we're looking at elder abuse we know that it's mostly carried out by somebody the person knows and trusts. So maybe a family member or friend or a neighbour."
– Louise Forster
It's often the people who are most vulnerable, and older people in many circumstances are vulnerable."
– Dan Minchin
Silent Abuse 
[3:00]
Judith Hatton talks with Gloria about her experience working with elder abuse and the most common abuse: financial abuse. 
"Most of the people that suffer elderly abuse, they live with their family. They live with their children. I never find abuse if they live alone," Gloria says.

The customer who Gloria supported tells her story. The customer is now happy and safe in her own place but there was a time when things were so bad that she considered ending her own life.
"You've been at risk of being homeless. Can you tell me how that happened?" Judith asks.
"My daughter, I suppose daughter-in-law just absolutely stole my identity," she replies.
The customer came home from a spell in the hospital to live with her daughter and daughter's partner. 
"There was no food in the pantry. The freezer was empty. There was just nothing," she remembers.
"They'd taken my credit card; I had absolutely no money left in savings. I had absolutely nothing, not even my card. I'd asked him for it back I don't know how many times."
"I couldn't have gone out on my own. I couldn't have just walked out and left the house, because I can't walk very far without the walker, and I had no alternative where to go." 
A Place to Call Home
[20:00]
"It's a very moving story to hear about what's happened in this example and it's really a demonstration to me of a couple of things that worked really well to get this customer to the outcome that she got to," Louise says.
"What I feel, and I know that everyone in the Chorus community feels, is that older people, like everyone, are entitled to autonomy, dignity, and the right to live safely," Dan responds.
If  this episode has raised issues for you, contact the WA Elder Abuse Helpline to find out more about elder abuse. Run by Advocare, it can be reached at 1300 724 679. There is also a country number which is 1800 655 566.
Thanks for Listening!
Thanks for tuning into this episode of the Chorus Voices Podcast.  If you find yourself inspired by these stories, head to our website and learn more about what we're doing.
If you enjoyed this episode, please pop into Apple Podcast and leave us a review! Thanks for listening, and we'll see you next time.
Mentioned in This Episode
Connect with Chorus
Credits
Podcast Hosts: Louise Forster and Dan Minchin
Opening Voiceover: Ryan Burke
Chorus Voices Theme Music: Wattlebird by Dylan Hatton Music
Music: With You by John Hatton
Interviewer: Judith Hatton
Story Editor/Producer: Judith Hatton
Special thanks to:
Gloria Sanchez
Customer at Chorus for sharing her story