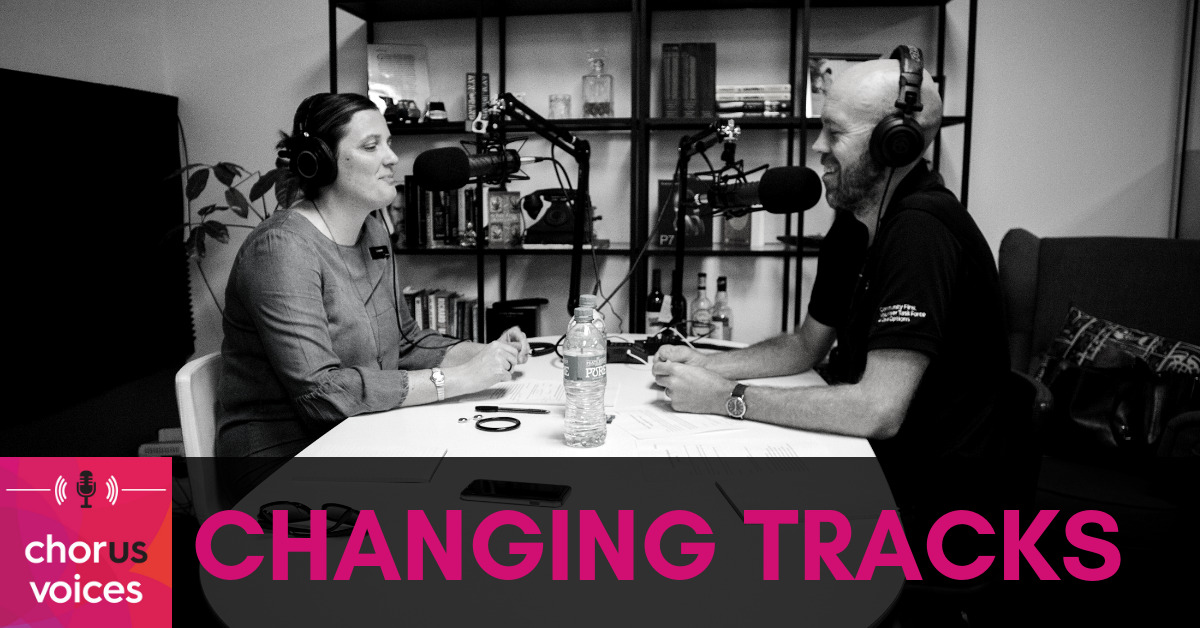 The journey to find purposeful and meaningful employment can be surprising. At Chorus that journey can begin by volunteering. Join Dan and Louise this week on Chorus Voices and hear from Chorus team members who have found a new direction at Chorus.
Listen Now
Or listen on: Apple Podcasts | Soundcloud | Spotify | YouTube  
From Gardener to Mental Health Worker – A Fork in the Road [1:30]
Emer meets with mental health specialist Kym Daffen and mental health student Kim Servaas to chat about workplace placement in mental health services at Chorus.
Kym Daffen speaks on what it was like to take a student under her wing after working for Chorus for less than a week.
Emer asks Kym Daffen, can you tell us about having a student come in on your first week on the job?
"I was a little nervous at the beginning because I have so much to learn myself. So having a student for 80 hours, I was worried about how I was going to best serve her. But I embraced the opportunity and it has worked out exceptionally well, and I couldn't be more happy to have had her for this time. She's been such a champ, so understanding. But the team has picked up as well, and taken her where they can. I think she's had a real enriched placement," Kym Daffen says.
"It's been a good broad range of activities I've done. I've been out with a few different support workers, been able to help with some tasks around the office, helping with case notes, I've had a taste of everything. Kim and the girls have been all really supportive, and always had something for me to do," Kim Servaas says.
Emer asks Kim Servaas, you've had quite the career change, can you tell me a bit more about your journey?
"It is a big change. I've been in horticulture for most of my life. I started gardening with Chorus a few years ago, and it was really rewarding being able to go out to client's houses and make an impact on their gardens. A lot of them would come to the door and want more interaction with us. As much as I knew I was providing a service to them, I just wanted to have more time with the clients. I started a nursing assistant course and finished that last year.   Then I looked at mental health, where you're helping people recover. It's a positive thing you're involved in," Kim Servaas says.
Emer asks Kim Servaas, what were the standouts from volunteering that worked out well for you?
"I think I was lucky to come right at Christmas time. I got to go to the Christmas party and meet a lot of the clients that I hadn't had one-on one- visits with. The girls have been fantastic, and put me under their wing. The support workers have been great. I've been able to shoot questions at them and they've offered to take me out for extra hours. I've been able to see how different people work and learn different tactics, and how they might approach different situations," Kim Servaas says.
Kim Servaas is grateful that she was placed with the team at Chorus, and is excited to continue her pursuits in the mental health services space.

It's Never Too Late to Learn Something New [11:15]
Emer meets with Heather to chat about her career transition through Chorus.
Heather began at Chorus in February 2016 after fracturing her back at her previous place of employment. Heather was sent to Chorus as apart of a 'Back to Work' initiative. Heather has gone from two hours one day a week to full time work with Chorus.
Emer asks, what did you do in your former life and former role?
"When I had my accident I was actually just cleaning display homes. In my former life I was a chef for 20 years. I've done lots of jobs in between but this position at Chorus is my first full time job in 20 years," Heather says.
Emer asks, I know you were new to admin work when you started off – can you tell me a bit about your computer skills when you first started at Chorus?
"Starting off – there wasn't a lot of skill there. People used to bang their heads on the wall with me. I'd be shown something and then two minutes later I'd be asking how to do something again. I'm lucky that they had patience with me to learn. I've had a lot of support the whole time I've been here, as well as some extra training as well," Heather says.
Emer asks, did you think when you first sought volunteer work at Chorus that you'd go on to be an administrator full time at Chorus?
"I never thought in my life I'd do an office job. When I first came in I thought they might kick me out actually. But like I said I've learnt so much, and now I love it," Heather says.
Two Hats Are Sometimes Better than One [14:15]
Emer meets with Lucy to chat about how wearing 'two hats' in the workplace has enriched her life.
Emer asks Lucy, what do you do at Chorus?
"At Chorus my role is Events Coordinator, but I've been spending a lot of time with you in the volunteering department," Lucy says.
Emer asks Lucy, what is it like to wear different hats at Chorus?
"I've been really lucky. I started in September with the volunteering team in more of an events perspective. When I first started I said, 'when I'm not busy with events I want to learn as much as I can in any department. Whoever needs a hand – throw me out there and I'll do whatever.' I was only three days a week at this point. When a volunteering opportunity came up, I was really excited. I love learning so much from so many different people. It's a tricky task because I split my time between event coordinating and volunteering. I know I have to get something done because the next day I'll be wearing a different hat. It's taught me a lot about time management," Lucy says. 
Emer asks, what has been the key takeaway from filling two roles?
"Take whatever I can, and learn whatever I can. Even if I think it won't be useful now. Everything I've learnt so far has been incredibly beneficial, and I can't wait to learn as much as I can," Lucy says. 
"If we can invest in people who want to change career path, who want to learn, grow and move on, I think that's what Chorus is all about. Having the best of both worlds, we can facilitate those career pathways for you," Emer says.

Thanks for Listening!
Thanks for tuning into this episode of the Chorus Voices Podcast.  If you find yourself inspired by these stories, head to our website and learn more about what we're doing.
If you enjoyed this episode, please pop into Apple Podcast and leave us a review! Thanks for listening, and we'll see you next time.
Mentioned in This Episode
Connect with Chorus

Credits
Podcast Hosts:
Louise Forster & Dan Minchin
Opening Voiceover:
Ryan Burke
Opening Music:
"Wattlebird" by Dylan Hatton Music
Producers:
Judith Hatton, Matthew Clark
Interviewers:
Emer Duggan
Special Thanks To:
Kim Servaas
Kym Daffen
Heather Flanders
Lucy Wiseman