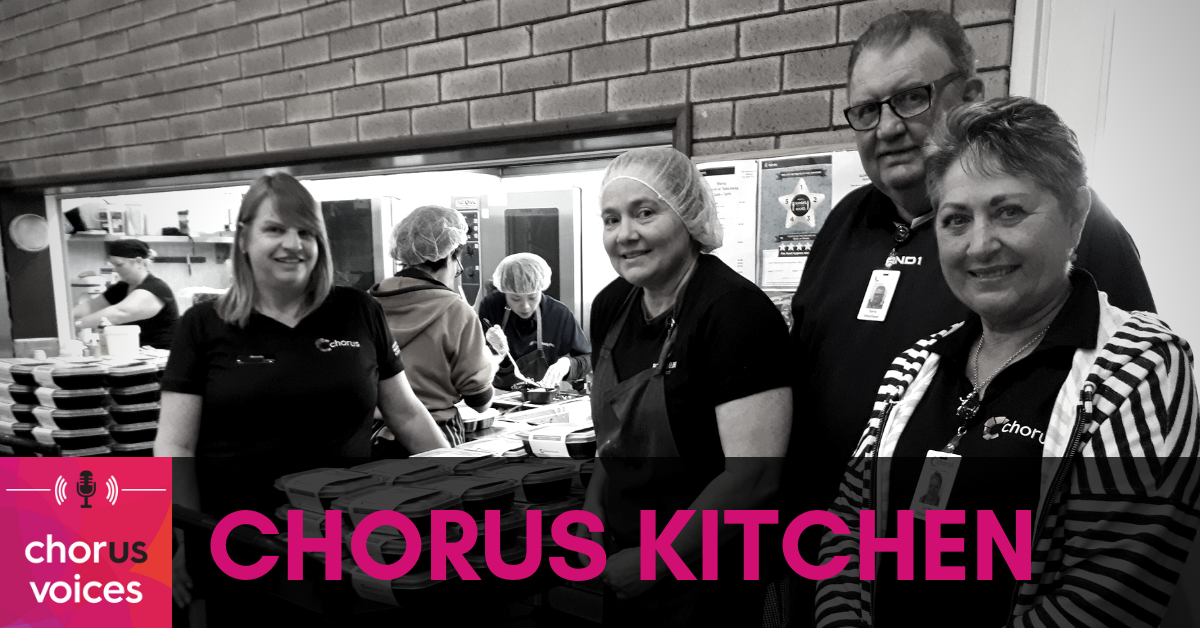 Join Dan and Louise this week on Chorus Voices as they explore the inner workings of the Chorus Kitchen, a food support service that is 'more than just a meal.'
Listen in and read on to find out how the Chorus Kitchen and Meals on Wheels provide "more than just a meal," and bring communities together over food.
Listen Now
Or listen on: Apple Podcast | Spotify | YouTube
[3:30] Meet: Terry, Lyn, Myra and Mandy – Chorus Kitchen
Chorus staff member Judith heads to the Chorus Kitchen to interview kitchen volunteers Terry, Lyn, Myra and Mandy.
Terry, also known as the "food fairy" has been volunteering with Chorus Kitchen for five years.
Judith asks Terry: Why do people call you the food fairy?
"This lady down in South Fremantle when I first started the meals on wheels, she would be peeking out of curtains waiting to see me walk down the driveway and she'd say 'Oh here comes the food fairy!' and I'd sing her a song," Terry says.
Terry continues.
"That was the start of my involvement with Meals on Wheels when I started long service leave."
"I heard you like to sing [to the customers]," Judith remarks.
"Oh yeah, I do sing occasionally." Terry jokes: "A couple of people have the bells on their door and I like to sing 'London Bridge is Falling Down'."
Lyn has been a delivery service driver for Chorus Kitchen for nearly six years.
Judith asks Lyn: How does it make you feel when you're helping people?
"Really really good because I know you can come in quite miserable sometimes in the morning, but by the time you're out and amongst it all [you feel better]. I love helping people," Lyn says.
New to the Chorus Kitchen, Myra joins Judith to discuss her experience so far.
"I feel like a fraud because so many people have been here such a long time. Some of the volunteers have been here for over 30 years," Myra says.
Judith asks Myra: How do you feel at Chorus Kitchen?
"Pretty tired. Our mornings are quite busy, we do an awful lot. We pack anything up to 200 meals and prepare lots of different varieties of foods as well. It's great working with the volunteers, they bring a lovely perspective. We rely on them, and they do such an amazing job," Myra says.
Judith asks: What sort of cooking do you like doing?
"I've been making cakes for the last few years. I like doing the desserts. I've had a few good [pieces of] feedback, that's always good. You don't want to cook something people don't like," Myra says.
Judith asks Terry: What has it been like for you to work in the Chorus Kitchen?
"I feel quite rewarded. It's a job you want to do, not because you have to," Terry says. "That makes a significant difference. When you're helping people it gives you a good sense of feeling valued."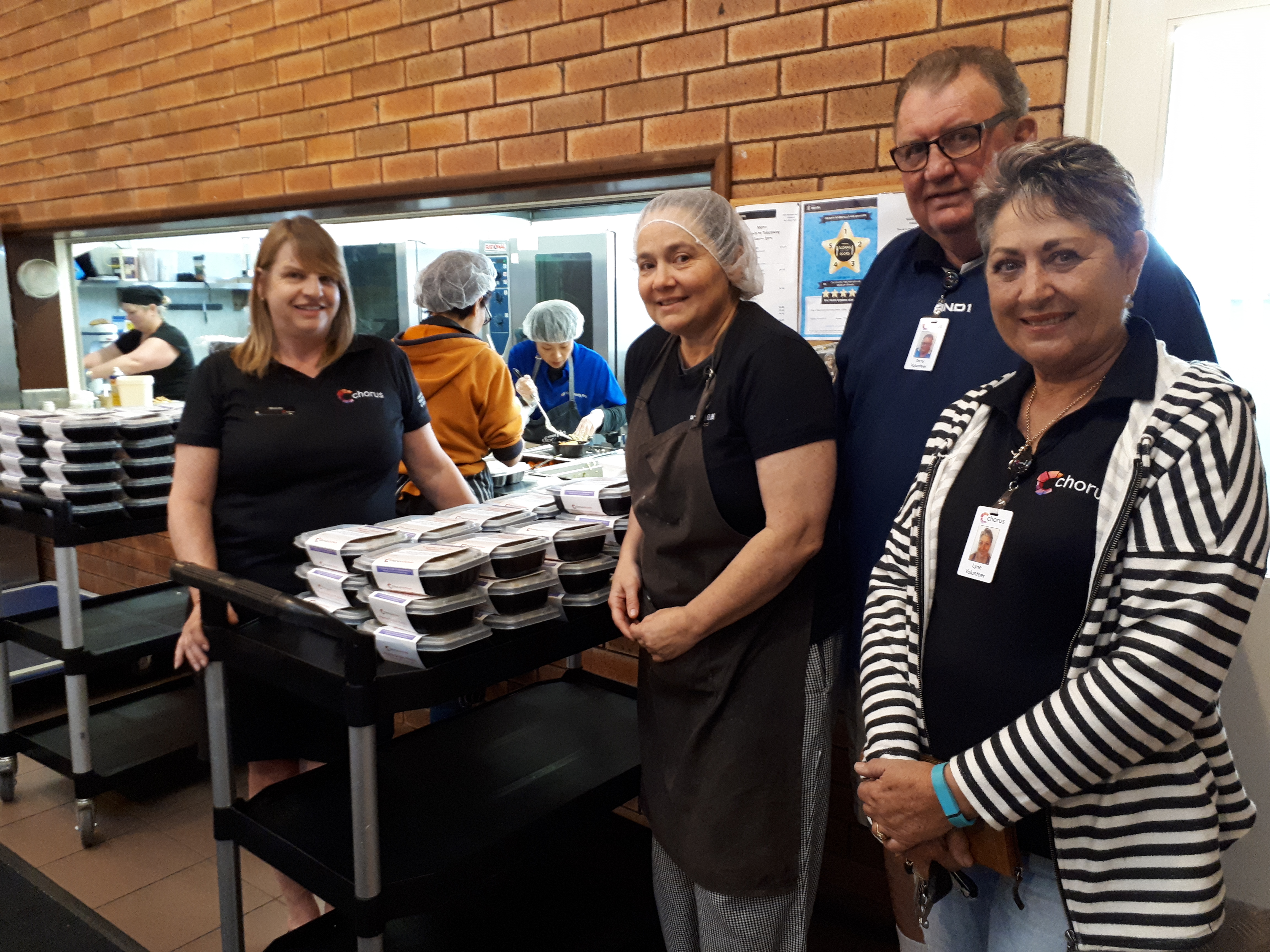 Getting ready for a meal run.
[12:09] Meet: Lorelle and Jackie – A Peek Inside Meals on Wheels
Curious about what goes on during a Meals on Wheels delivery? Lorelle and Jackie take listeners out on a delivery run. Find out what it's like on a delivery by jumping to minute 12:09 of the podcast.
Lorelle and Jackie join Judith after their delivery to talk about the service.
"What the volunteers do for the customers is fantastic. But I think it's also great for the volunteers to meet people that they possibly would have never of met." Lorelle says.
[15:13] Terry – A Family Affair
Judith meets with Terry again to talk about his connection to volunteering and family.
Judith asks: I hear it's a bit of a family affair for you here?
Terry had recruited his grandson to help him on a delivery during the school holidays. Whilst on the job, one of the customers was kind enough to reward Terry's grandson with some chocolate. As the customer handed over the chocolate he said "May God be with you."
"My grandson said 'Pop, is God coming with us?' That was quite a funny remark," Terry laughs.
Thanks for Listening!
Thanks for tuning into this episode of the Chorus Voices Podcast.  If you find yourself inspired by these stories, head to our website and learn more about what we're doing.
If you enjoyed this episode, please pop into Apple Podcast and leave us a review! Thanks for listening, and we'll see you next time.
Mentioned in This Episode

Connect with Chorus

Credits
Podcast Hosts: Dan Minchin and Louise Forster

Opening Voiceover: Ryan Burke
Opening Music: Dylan Hatton Music
Producer: Matthew Clark
Interviewers: Judith Hatton

Special Thanks To: Lyn Reid, Terry Woodward, Myra Lydon, Mandy Waters, Lorelle and Jackie