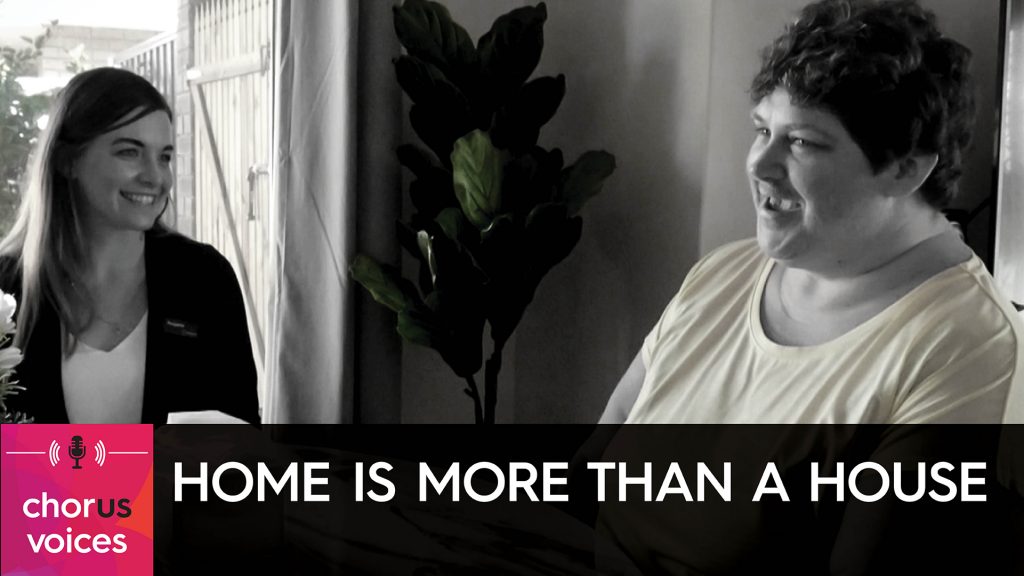 Listen now
Or listen on: Apple Podcasts | Soundcloud | Spotify | YouTube
Krystyna likes to cook, garden and have fun with her housemate, Quack Quack 2.  In this episode we learn about the journey and joy of supported independent living.
Krystyna lives with disability and been on a long journey to find a supported living arrangement. Krystyna, Krystyna's mum Caroline and Angela from Chorus tell us about what it's like to be independent and supported in your own home.
Angela helped Krystyna to find an Individualised Living Option (ILO), an NDIS package that funds people to live independently.
Through Support Coordination Krystyna now lives with a friend and has drop-in supports. She has more freedom and independence. It's all about capacity building.
"You pay your own rent, your own bills, you organise your grocery shopping, plan your meals." says Angela.
Krystyna has a lovely home and garden where she is growing vegetables out the back. She loves art, dancing and going out with her friends.  Her mum has taught her how to cook and Krystyna is quite the chef!
"What's different is I want to move forward… be a good friend to Jess and a housemate," says Krystyna.
"And I'm going to keep on going forward. Don't go backwards anymore."
Credits
Podcast Hosts: Louise Forster and Dan Minchin
Opening Voiceover: Ryan Burke
Opening Music: "Wattlebird" by Dylan Hatton Music
Interviewer/Producer: Judith Hatton
Executive Producer: Meaghan Ferries
Post Production: Matthew Clark
Special Thanks To:
Krystyna
Caroline
Jess
Emma
Angela Johns
Maddie Bull
Thanks for Listening! 
Thanks for tuning into this episode of the Chorus Voices Podcast. If you find yourself inspired by these stories, head to our website and learn more about what we're doing.
If you enjoyed this episode, please pop into Apple Podcast and leave us a review! Thanks for listening, and we'll see you next time.
Connect with Chorus