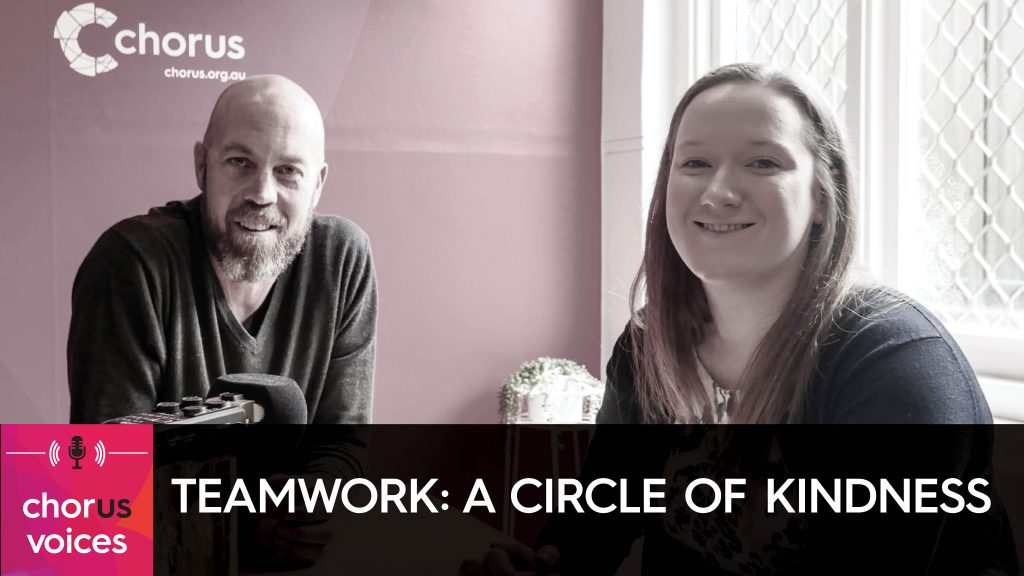 Or listen on: Apple Podcasts | Soundcloud | Spotify | YouTube
Chorus is a team of kind, caring people. In this episode Dan Minchin and Nikki Drury explore the relationship between teamwork and kindness.
Nikki Drury, Co-designer for the Chorus Fresh Approach project, has looked at how we can be kind and relational at work. Building supportive teams that can share ideas, work through challenges and have difficult conversations helps teams flourish.
But there are barriers to relational work such as time and funding.
"Sometimes having a cup of tea and a chat is much more valuable to a person than making sure the bed linen is changed," says Nikki.
Support workers in the community can be quite isolated and Nikki outlines the importance of debriefing with their team. Getting together. Having a laugh. Sharing the challenging moments.
"Even, on paper, a fairly simple task like helping someone with the shower, if their context is so really difficult, that could be a really tough day for a Chorus support worker," says Dan.
The Fresh Approach team ran experiments by creating "huddles" – virtual and real – to support strong relationships.
"Some people might be a little more shy and fall through the cracks in bigger groups of people," says Nikki.  "Having that contact with their peers was a really big win for a lot of people."
Some of the people in the huddle experiment share their experiences.
"The hypothesis is that if we could make this a really routine way of working… customers' experience and support would be enhanced, and that's probably something we need to get into thinking about," says Dan.
Chorus is working towards making relational work commonplace – being kind, not saying yes to everything and managing boundaries.
"It's really brave of Chorus and us as a collective to make that decision that actually we want to shift back to the reason why we love to do this work and the reason why customers love us to be doing it," says Nikki.
Credits
Podcast Hosts: Dan Minchin and Nikki Drury
Opening Voiceover: Ryan Burke
Opening Music: "Wattlebird" by Dylan Hatton Music
Producer: Judith Hatton
Executive Producer: Meaghan Ferries
Audio Editing: Matthew Clark
Special Thanks To:
Julie Briggs – Customer Contact administration
Angela Johns – NDIS Support Coordinator
Stephen Hill – Support Worker Gardening and Home Maintenance
Coffee Cart Host
Jane Wittenoom – Fresh Approach Co-Lead
Jethro Sercombe – Fresh Approach Design Facilitator
Thanks for Listening! 
Thanks for tuning into this episode of the Chorus Voices Podcast. If you find yourself inspired by these stories, head to our website and learn more about what we're doing.
If you enjoyed this episode, please pop into Apple Podcast and leave us a review! Thanks for listening, and we'll see you next time.
Connect with Chorus