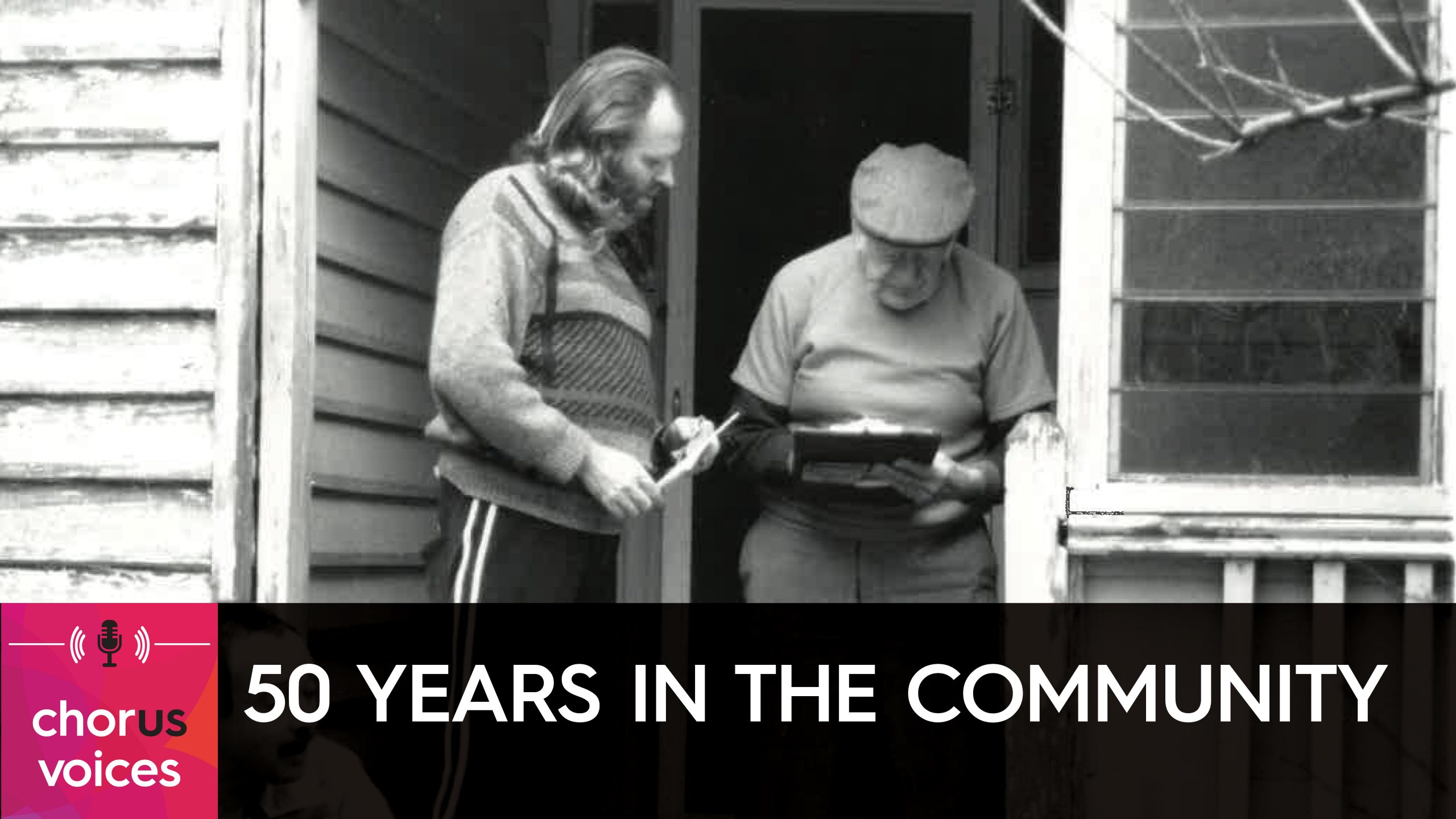 Or listen on: Apple Podcasts | Soundcloud | Spotify | YouTube
Episode 50 of Chorus Voices celebrates 50 years of Chorus in the community and, as it turns out, it's our 50th episode!
"Our longest ancestor train traces our lineage back to 1970 when Volunteer Task Force was founded by John and Sandra Penrose," says Dan Minchin.
Volunteer Task Force and then Chorus volunteers Jim and Wanda Bennett contributed an extraordinary 18 years to their community. They met Jeannette Olsen in their first year and the three have remained close friends.
One day Wanda sat with a customer instead of doing her gardening. The customer's husband had just died. "It wasn't just about the gardening. It was interacting with the people," says Wanda.
Jim recalls an emotional moment when a man in his 90s asked for help for the first time.
There was much food to be shared on a day out gardening, and it was fun, too. Jeannette remembers Wanda unloading a lawnmower one day. "I turned around to look for her lawnmower and it was racing down the hill."
Ina Hart has been with the Albany Senior Citizens Centre and then Chorus for about the same amount of time. She works in the office at the centre and started off cooking for the Meals on Wheels service there.
"It was really hectic because I had to learn how to cook bulk amounts of food. And I'd never done that before. And somebody had said to me, 'Oh, come on, Ina. Your mum and dad had 16 children. You should know how to cook for lots of people,'" she says.
Narelle Roberts started as a Support Worker for Community First, now Chorus in 2009, supporting people living with disability. She is also a customer and enjoys taking part in the Ability Arts program.
"It was just pure heaven that I got to know how to look after myself and then take better care of myself from being here at Chorus and Community First," says Narelle.
"There's just a never-ending array of those sorts of stories that pop out of the work of Chorus," says Dan.
"And I guess that also is reflective of the sort of rich tapestry that Chorus is; it's made up of these multiple parts, groups, organisations that over the 50 years have come together."
Click here to look at our history in photos.
Credits
Podcast Hosts: Dan Minchin and Louise Forster
Opening Voiceover: Ryan Burke
Opening Music: "Wattlebird" by Dylan Hatton Music
Interviewees:
Jim Bennett
Wanda Bennett
Jeannette Olsen
Ina Hart
Narelle Roberts
Producer/Interviewer: Judith Hatton
Executive Producer: Meaghan Ferries
Audio editing: Matthew Clark
Artwork/Video: Maddie Bull