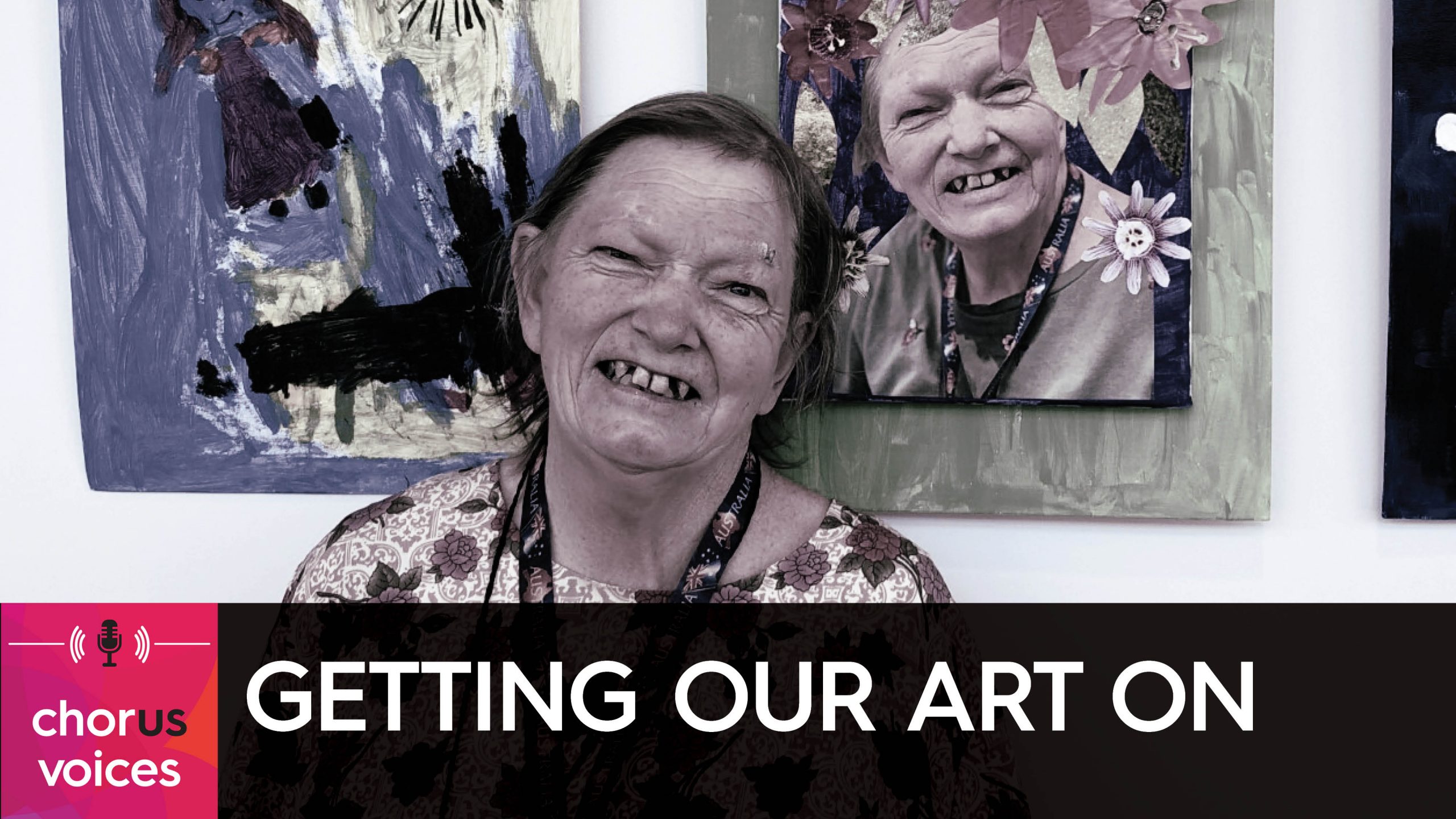 Or listen on: Apple Podcasts | Soundcloud | Spotify | YouTube
Chorus is undergoing some exciting changes to work more locally – to become less of a service provider and more of a facilitator in the community. In this episode we talk to artist and facilitator of inclusive art programs at Chorus, Elli Moody, about the inspiring community engagement that is going on locally in Mandurah.
"We try and have an annual exhibition each year, which is really about showcasing what our guys have been producing and getting it out there in the community," says Elli.
Elli and the Ability Arts team got involved in the Selfie Portrait Exhibition last year. They sent out a kit with a canvas, paints and paint brushes to various groups in the Mandurah community.
"We could have done it just in-house with our customers, but we thought we'd throw it out to the wider community," Elli explains. "It's really good for building some connections within the community. We had about 25 students from John Tonkin Education Support Centre take part."
The team has a strong relationship with the City of Mandurah and have taken part in other community art projects, like painting the signage for the beach access equipment shed at Keith Holmes Reserve in Mandurah.
"Our artists got together and started drawing beach sort of inspired illustrations, which we then put together into a design, which is now on the shed," says Elli.
Eight artists from Ability Arts took part in the state-wide As We Are art exhibition last year. Potter Kylie Graham from the group won the sculpture award with her entry of Cinderella and Prince Charming.
"She was just so excited and she actually received the award from Stephen Dawson, who is the Minister for Disability Services,' adds Elli.
It's not all about art down at Ability Arts (although it mostly is!) The group love going on social outings too and last year funded some of their activities by signing up for Containers for Change.
"When Containers for Change came out, we thought that would be a great opportunity to make some extra money," adds Elli.
"I think the Ability Arts really speaks to the multiple connections and how we really connect with the community down there," says Louise.
Dan agrees.
"What we're trying to do in the Peel area and then beyond is replicate the sort of local way of working that we've heard about today in other places. And that's really the plan," says Dan.
Credits
Podcast Hosts: Dan Minchin and Louise Forster
Opening Voiceover: Ryan Burke
Opening Music: "Wattlebird" by Dylan Hatton Music
Interviewee: Elli Moody, Facilitator Social Support Group, Chorus Ability Arts, Mandurah
Producer/Interviewer: Judith Hatton
Executive Producer: Meaghan Ferries
Audio editing: Matthew Clark
Artwork: Maddie Bull
Mentioned in this episode
John Tonkin Education Support Centre