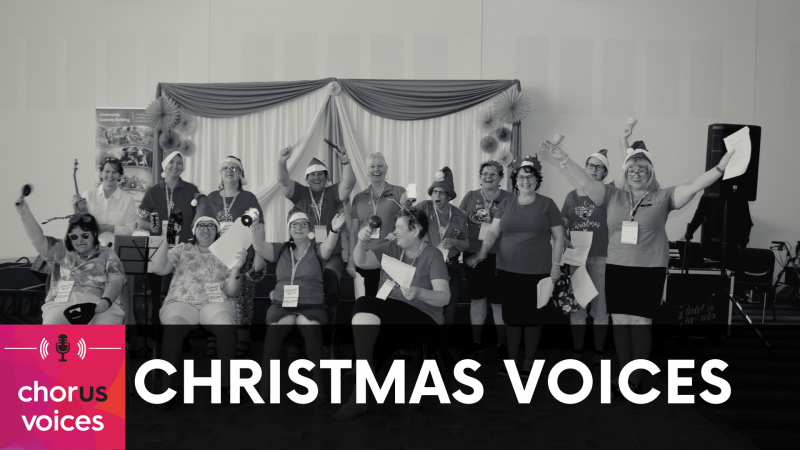 Listen Now
Or listen on: Apple Podcasts | Soundcloud | Spotify | YouTube  
"She took the courage to come to me, and just check in on how I was doing. It made me smile." – Charlotte Webb.
As we look forward to a new year of stories from the Chorus community, we pause to reflect on the year that has been. Gloria Sanchez, Frances Sheehan and Judith Hatton join Dan Minchin and Louise Forster to talk about their most memorable moments in 2019.
Strange, funny, sad? People in the broader Chorus community also reflected on what was meaningful in 2019. Overwhelmingly our favourite moments showed how much we care for each other. 
Enjoy the Christmas podcast and see you in 2020 on Chorus Voices. 

Credits
Podcast Hosts: Louise Forster and Dan Minchin
Opening Voiceover: Ryan Burke
Music: "Wattlebird" by Dylan Hatton Music
Story Editor/Producer: Judith Hatton
Executive Producer: Meaghan Ferries
Post Production: Matthew Clark
Special thanks to:
Singers from Chorus Ray Street and Chorus Ability Arts
Gloria Sanchez
Frances Sheehan
Rachel Levell
Charlotte Webb
Clancy Jones 
Joshua Linn
Kirra Donnelly 
Nick Hopkins 
Tayla Robbins 
Amanda Huckstep 
Nikki Drury
Jane Wittenoom

Thanks for Listening! 
Thanks for tuning into this episode of the Chorus Voices Podcast.  If you find yourself inspired by these stories, head to our website and learn more about what we're doing.
If you enjoyed this episode, please pop into Apple Podcast and leave us a review! Thanks for listening, and we'll see you next time.

Connect with Chorus