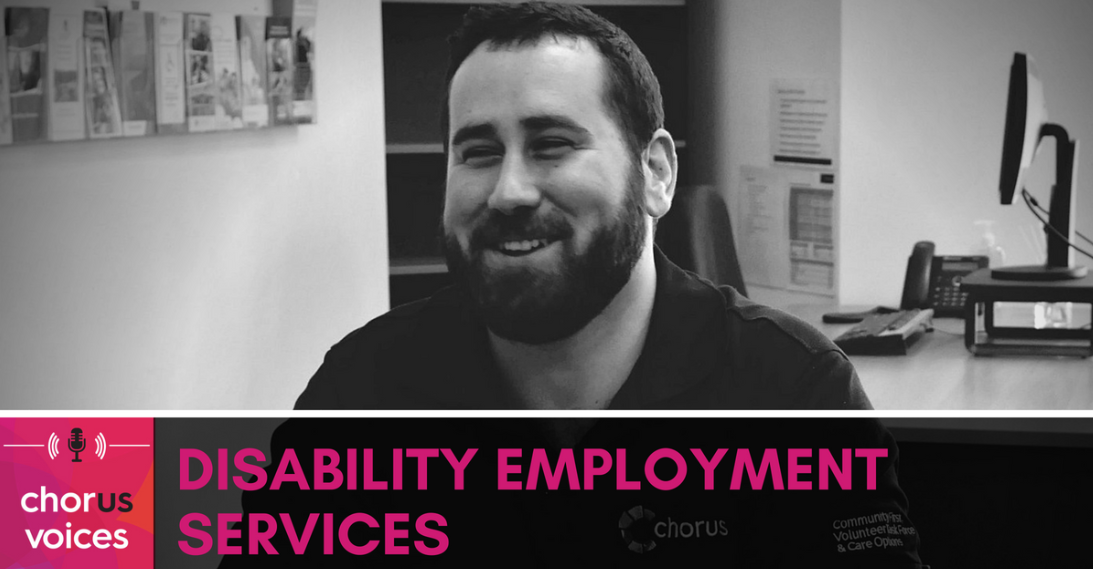 Disability Employment Service (DES) supports customers to find employment that is right for them long term.
Note: Chorus no longer offers a Disability Employment Service. Visit Disability Services to find a Disabiliy Service Provider.
Listen Now
Or Listen On: Apple Podcasts | Soundcloud | LibSyn | Spotify | YouTube
Disability Employment Services [0:00]
A job is more than just a job. A job isn't just financial independence. It gives us purpose, a place in the world and a sense that what we're doing is making a real contribution. Chorus DES strives to help people living with disability or in mental health recovery to find meaningful employment.
On Chorus Voices we love to get people's stories and hear how Chorus programmes have impacted the lives of people and their communities. Dan and Louise are in the studio with Chorus Communications and Marketing Coordinator Judith.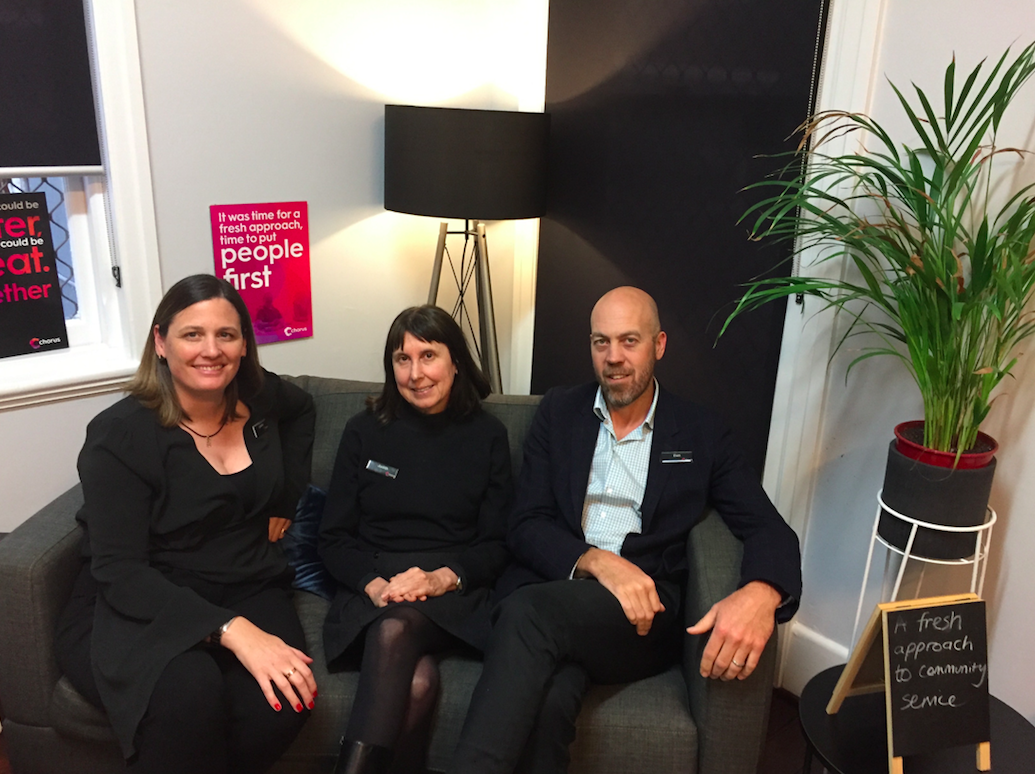 Caption: (left to right) Louise, Judith and Dan working on the podcast.

Judith headed to Fremantle to interview support worker Toby and Chorus Program Manager Craig about DES.
DES Support Worker: Toby [5:00]
Before Toby found his way to Chorus, he was a refrigeration mechanic for eight years. Toby took some time off work and eventually made his way to Chorus. Chorus helped Toby transition into a support worker role within Chorus. Now, Toby works five days a week and enjoys using his experience to support his customers.
"Whether it's buying shopping […] or figuring out how to cook something that you need […] I help them by showing them it's really not that hard," Toby says.
"Going through really bad struggles myself, I had to learn all that stuff by myself, and figure out going from two minute noodles to figuring out how to make a meal for myself. It's good that I had that experience, I can actually draw on it. I thought, I may as well use what I've got. I didn't have a job and I wasn't contributing to anything. Now, I'm making steps and reaffirming that what I'm doing is actually contributing to something good."
In five  years, Toby sees himself still studying and working in a support worker position at Chorus. He's found that support work is the career path he wants to take long term.
"If someone was in hard times or in "struggle town" and they didn't know where to go or they didn't know what to do. I recommend Chorus as probably the best place."
DES Support Worker: Craig [8:38]
As the Program Manager of Chorus DES, Craig's goal is to guide as many people as he can to find sustainable employment.

"Toby is one of our successes, we've got him into further education which is one of the goals of the programme and moving people forward, it's about individual outcomes for the person. It's not about us coming in and pushing someone into a job. It's about finding out what they want to do and helping them get where they want to go. Toby is doing further training which is setting him up long term in life. We spoke to Toby about doing this role and applying for that and it ties in very nicely with the study he's doing at university."
Craig stresses that the DES programme isn't about finding people jobs that just pay wages. It's about setting them up for life, with meaningful work.
DES Support Worker: Vanessa [13:15]
Judith wrapped up in  Fremantle and then made her way to Rockingham to catch up with DES support workers Vanessa and Sue Anne over coffee.
Judith asks Vanessa why she came to Chorus.
"I was with an employment agency, so I've got a different background of sorts," says Vanessa. "I like to give anything a go and try anything out and explore new avenues, and I like a challenge I suppose. At Chorus there are so many areas and people doing different things."
Vanessa came to Chorus DES for support to find a job. Funnily enough, she ended up working at Chorus!
"They helped me every step of the way, encouraged me when I needed encouragement and put me on the right path."
Vanessa is now a support worker in home care. She works five days a week and is slowly increasing her hours. Despite being a "freshie" she's settled in well and loves working with customers.
Judith asks: "What kind of things do you do as a support worker?"
"I take people shopping, I help them clean, I [have been out] and played golf. I hang out and just let people vent to me. I help them clean and declutter. They get to choose what they do for the day. I'll stretch it out or do whatever I need to do to encourage them to take the path they want to take."
In five years' time, Vanessa sees herself still comfortable in her support worker role at Chorus.
DES Support Worker: Sue Anne [16:00]
Sue Anne has been working at Chorus since February in a support worker position. She has a similar background to Vanessa, and they have developed a special friendship.
"It's been really good, I've got a good set of clients that I see regularly every week. We've got a really good bond. Me being there and helping them get back on track into their life and their community gives me a sense of achievement that I've helped." Sue Anne says.
Chorus has provided a range of services including:
Phone support

Sending information as needed

Home visits when coming into the office has been difficult
"Chorus goes above and beyond," Sue Anne says.
At Chorus, we believe a job is more than just a job. We believe that you want to go to work and spend time with people who make you feel good about who you are. We all want to be doing something worthwhile and with purpose.
Mentioned in This Episode
Chorus Disability Employment Services
Connect With Chorus
Credits
Podcast Hosts: Dan Minchin and Louise Forster

Opening Voiceover: Ryan Burke
Opening Music: "Wattebird" by Dylan Hatton Music
Producer: Matthew Clark
Interviewer: Judith Hatton
Thanks to: Toby, Sue Anne and Vanessa