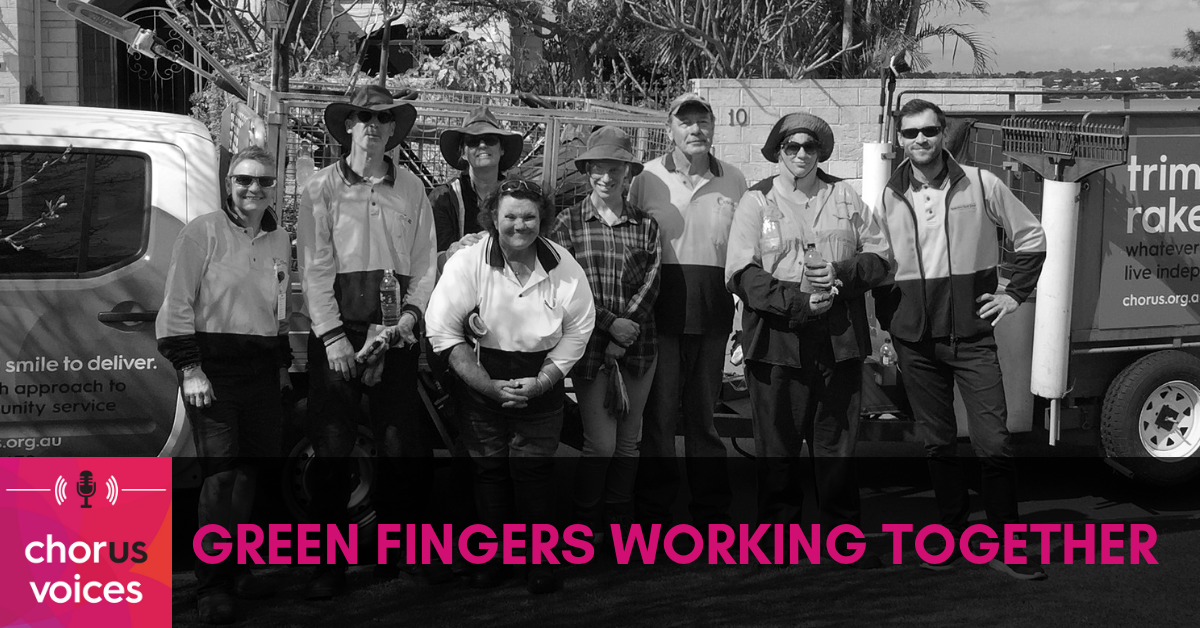 Join Louise this week on Chorus Voices as she meets up with Tolly to explore the horticulture and gardening work done throughout, and outside of Chorus.
Listen in and read on to find out more about students, volunteers and Chorus workers involved in horticultural work, and how it's impacting the community.


Or listen on: Apple Podcast | Spotify | YouTube
[3:30] Meet Mitzi from North Metropolitan TAFE
First on Louise's horticulture road trip, is a chat with Mitzi from the North Metropolitan TAFE.
"My name is Mitzi I'm a lecturer with the North Metropolitan TAFE and I've been with them for about 14-15 years. Before that, I was with a business supporting people with disabilities – but on the training side of things," Mitzi says.
Louise asks Mitzi: What is the course and what do the students do?
"The students are enrolled in Certificate II Horticulture with the Disability Program. Our students have a disability – whether that be intellectual, physical or mental health issues," Mitzi explains.
"We get a lot of support. The students do tutorials most afternoons which are knowledge-based and assessments, but also time in the garden as well as work experience," Mitzi says.
"That's how they come along to Chorus and work for us," Louise says.  
"That's right, that's all involved in the course. We tie that to two units. One being working in an effective industry. The other one is operating basic equipment and machinery. Chorus, when it was Volunteer Task Force, they offer basic machinery like a lawn mower and they give the students the opportunity to use them on the site," Mitzi says.  
[5:25] Meet Student Megan
Louise meets with student Megan Michelle from the North Metropolitan TAFE, to ask how she got involved in the horticulture course.
"It was when I went to Kaleidoscope Garden," Megan says.
Megan has been apart of the horticulture program since February this year, after being inspired by the Chorus Kaleidoscope Garden.
Louise asks Megan: Have you worked, or volunteered with Chorus before?
Megan explains that she has not worked with Chorus prior to her work experience with the TAFE course. Megan's first introduction to Chorus was at the Kaleidoscope Garden.
"That is so amazing," Louise says.
[6:30] Meet Student Molly
Louise catches up with student Molly to discuss her journey with horticulture, and how it all began.
"Hi my name is Molly and I'm doing my Certificate II in Horticulture. A part of my course is to complete work experience for Chorus. We go to people's houses that can't do their own gardening," Molly says.
"Our work experience involves weeding, cutting the grass, trimming, hedging and bush cutting," Molly explains.
Louise asks Molly: What got you into horticulture?
"I've always had a passion for the outdoors, like nature and the environment. My Mum brought home some course information about it and she said read them, and pick one. So I read them and one of them happens to be horticulture. I didn't think I'd enjoy it but here I am. It's intense but I'm handling it and I'm getting through it. I'm enjoying it," Molly says.
"It sounds intense physically, but it's also intense mentally with all the plant names and species you need to remember," Louise says.  
Molly agrees.

"Each day is a different journey and I'm enjoying every moment of it," Molly says.  
[8:30] Meet Student Conservationist Kerrie
"Hi I'm Kerrie, I work with Chorus which is apart of my work experience for my Certificate II in Horticulture," Kerrie says.  
Louise asks: What made you choose horticulture?
"I'm a conservationist, I've been involved with conservation thanks to a guy named Vincent Serventi. I started doing gardening at home, doing weeding for my mum and now here I am at 61, I might not have the physical strength, but I can still get in there and do it too," Kerrie says.
Kerrie continues.
"It's this kind of stuff that keeps me from climbing the walls at home. But it's not only just climbing the walls, it's the fact that I'm out in the fresh air doing what I love," Kerrie says.
[11:20] Meet Anne
Louise and Tolly, as well as a couple gardeners and students, arrive at the first job for the day. Louise meets with homeowner Anne of the property they're tending to.
Louise asks Anne: Is it handy for you that Chorus come and help?
"It's amazing, I don't think I could still be living comfortably in this house if I didn't have the gardening help. They've [Chorus volunteers and students] have always been great, happy and do what I ask – what more could anybody want?" Anne says.
Anne continues.
"I read a while ago that without volunteers in this country [Australia] nothing would function," Anne says.
[12:40] Meet Chorus Gardening Coordinator Rod
Louise meets with Chorus gardening coordinator Rod to discuss his role at Chorus.
"My name is Rod Moncrieff and I'm a gardening coordinator at Chorus, previously Volunteer task force before the merge. I've been with the organisation a number of years now," Rod says.  
"You've got a number of us out here from students to volunteers – what does it mean to you to have such a diverse bunch of people?" Louise asks.
"Our client today is very organised, she gave us a trip around the place and a whole list so we knew exactly what kind of jobs had to be done, so when the students came, I could allocate jobs to all of them and we could get the job done in an hour," Rod explains.  
[14:05] Meet Chorus Gardener Janice
"My name is Janice and I've worked for Chorus now for four weeks and I'm thoroughly enjoying it. I love helping people who are in need of our assistance and in return they end up having a beautiful garden," Janice says.  
"I was talking to Rod and he said that it's good being able to allocate a job to the students, everyone has a meaningful role to play," Louise says.
"There's nothing worse than coming to a job and some of the students are standing there doing nothing, to get them involved, even if it's just a little bit of weeding, or just chatting to the client is enough for them. We might be the only people they see that day," Janice says.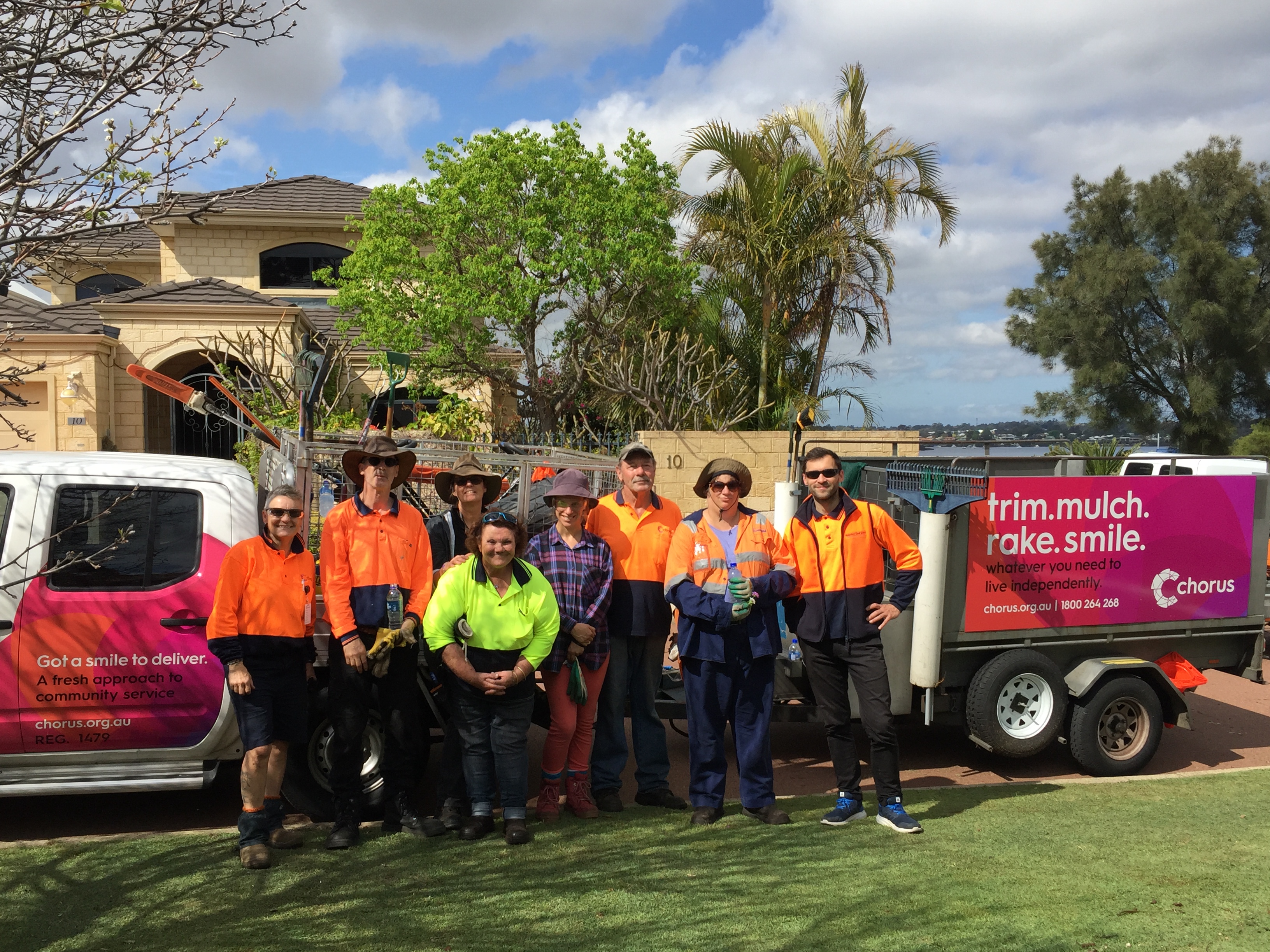 Mentioned in This Episode