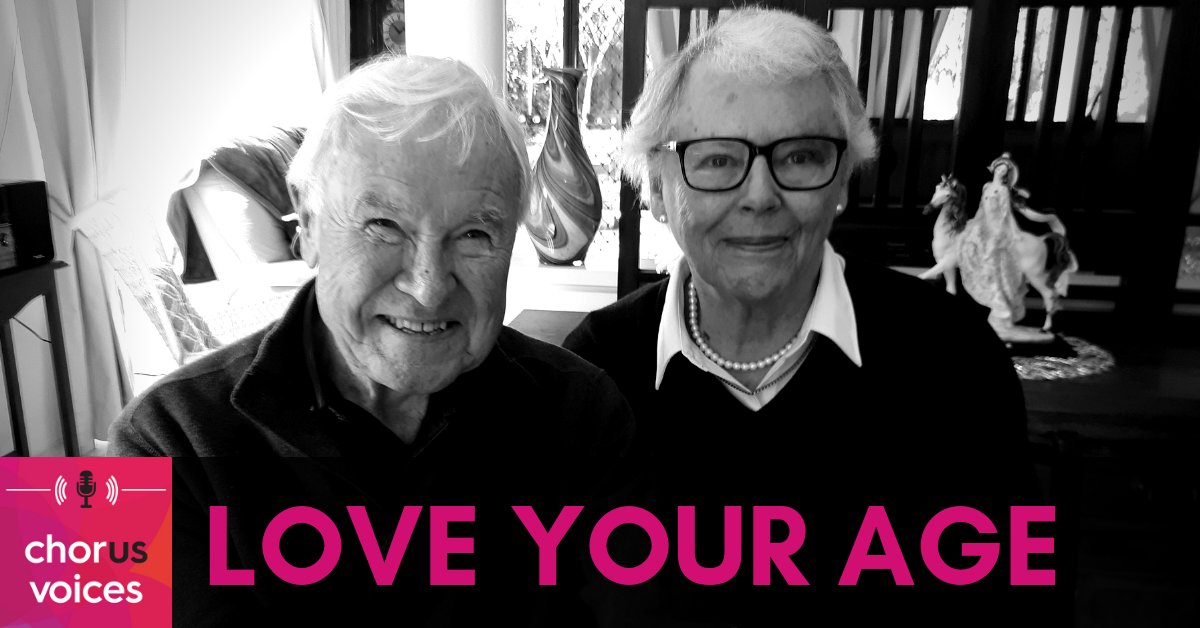 Listen Now
Or listen on: Apple Podcasts | Soundcloud | Spotify | YouTube  
Love your age starts with a love story about two Chorus customers in their 80s, Elizabeth and Kevin, who are celebrating six months as newlyweds. 
A lack of respect for older people can stem from a perception that they aren't engaged in productive activities.
"Let's flip the stereotype," says Louise Forster. "There's something about our stereotypes of who can find love and maybe how they can find love."
Kevin and Elizabeth talk about dating, playing hard to get and what it's like to be married second time around. 
"I wanted to be with Elizabeth very, very much," says Kevin. "I knew that there was a lovely relationship to be had between the two of us, but I didn't really want to just live together. It needed to be deeper than that for me."
"If we could talk about a love story like the one we just heard, Kevin and Elizabeth, then that's a really powerful way of flipping the stereotype," says Dan Minchin.
Getting old can include loss – a loved one, your memory or something that you once had. We also talk to Chorus volunteer Alan who has been volunteering for 10 years. Alan is about to turn 80 and gave up his driver's licence.
"The only thing I'm not managing now is a motor car," says Alan.  "Other than that, I mean, it's still my lifestyle. I'm doing two days a week in the volunteering tasks." 
"If the age is a problem, you don't have to show it," adds Alan. "You just accept the person as they are. And by doing that you can make it a lot easier for their life as well."
Having purpose and belonging impacts on our general health and wellbeing. "There are great examples of where people can live a good life, and live longer and live better through the power of staying engaged and staying involved," says Dan.
Find out more:
Chorus blog: Love your age: reversing the stereotype
Chorus video: Love your age
Mentioned in this episode:
103-year old runner Julia "Hurricane" Hawkins breaks new record
Credits
Podcast Hosts: Louise Forster and Dan Minchin
Opening Voiceover: Ryan Burke
Music: "Wattlebird" by Dylan Hatton Music
Interviewer: Judith Hatton
Story Editor/Producer: Judith Hatton
Executive Producer: Meaghan Ferries
Production: Matthew Clark
Special thanks to:
Chorus customers Kevin and Elizabeth
Chorus volunteer Alan
Michelle Nixon (Chorus North Perth gardening and home maintenance team)
Ian Beaton (Chorus North Perth gardening and home maintenance team)
Lucy Wiseman (Video)
Listen on: Apple Podcasts | Soundcloud | Spotify | YouTube  
Thanks for Listening! 
If you find yourself inspired by these stories, head to our website and learn more about what we're doing.
If you enjoyed this episode, please pop into Apple Podcast and leave us a review! Thanks for listening and see you next time.
Connect with Chorus