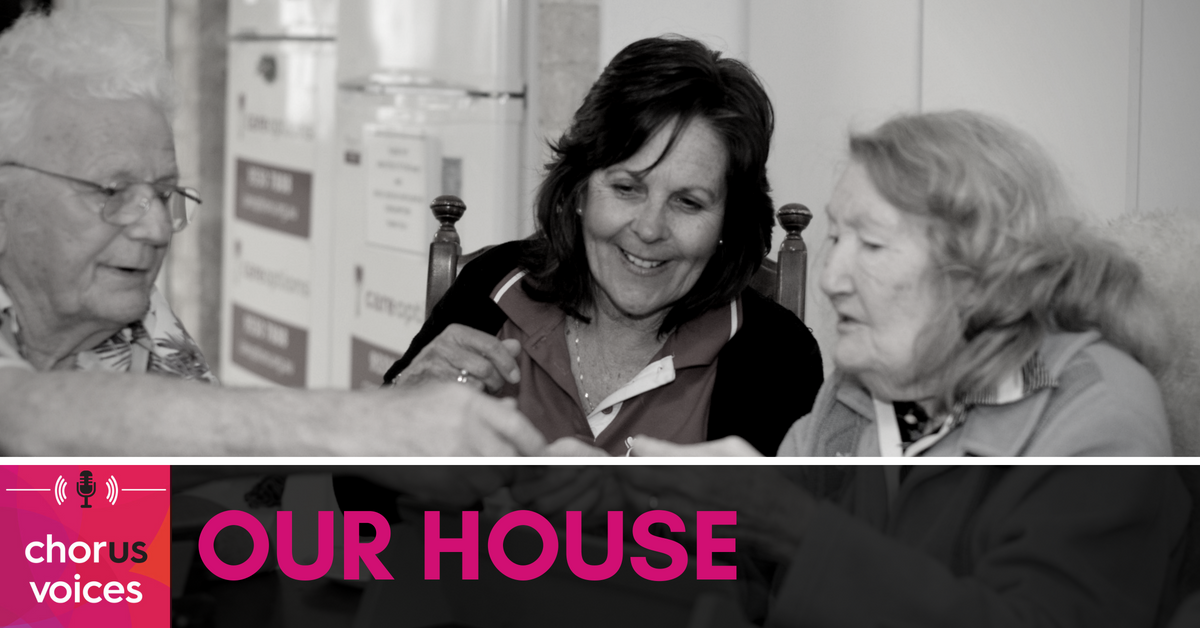 A place to gather, to connect, to have a laugh, and to share a meal.
This is what Chorus offers with 'Our House', a purpose-built home in Mandurah that hosts daily gatherings for seniors and people living with disability.
The offering is a simple, but essential one. Listen in to Episode 11 of the Chorus Podcast to learn how Our House, and the other Chorus Day Centres change lives.
Or Listen On: Apple Podcasts | Soundcloud | LibSyn | Spotify | YouTube
What is 'Our House?' – [0:00]
'Our House' is a home in the suburb of Meadow Springs near Mandurah, Western Australia. Purpose-built to cater to the needs of seniors and those living with disability, it is the perfect place to gather, play games and share meals.
And that's exactly what Chorus uses it for. Ever since the home was gifted to Chorus several years ago, it has been a thriving hub of activity for Chorus customers.
Seniors come together on Monday, dementia groups gather Tuesday through Thursday, and on Friday there is a mixed group – plus a program that picks people up and takes them on food or entertainment adventures. They all run through Our House.
With wide hallways, open spaces, a pagoda in the back, a spa room with massage chairs, and even a pool table, Our House is a beautiful place for people to have fun and connect.
Our House has changed the lives of many Chorus customers.
"That kind of activity is something a lot of people take for granted, but for many of the people who come along to the Chorus Centres, it's a really important part of their lives." – Dan Minchin
Listen in to hear how Our House and other Day Centres , have made a difference in the local community.
'Our House' Interviews with Matt Clark – [2:30]
Matthew Clark is a new and especially welcome addition to Chorus. He helps produce the Chorus Voices Podcast, and has travelled to Our House to hear from staff and customers about their experiences.
Our House Staff: Shirley – [3:20]
Shirley, a Chorus staff member working at Our House, does a bit of everything: she supports customers, drives the bus that picks up and drops off customers, does some cooking for group mealtimes, helps people get involved in game playing, and essentially facilitates people in connecting with each other.
Interviewed by Matt, Shirley recalls how much these gatherings mean to those who attend.
"When they start playing the games, they open up. They're totally different people!"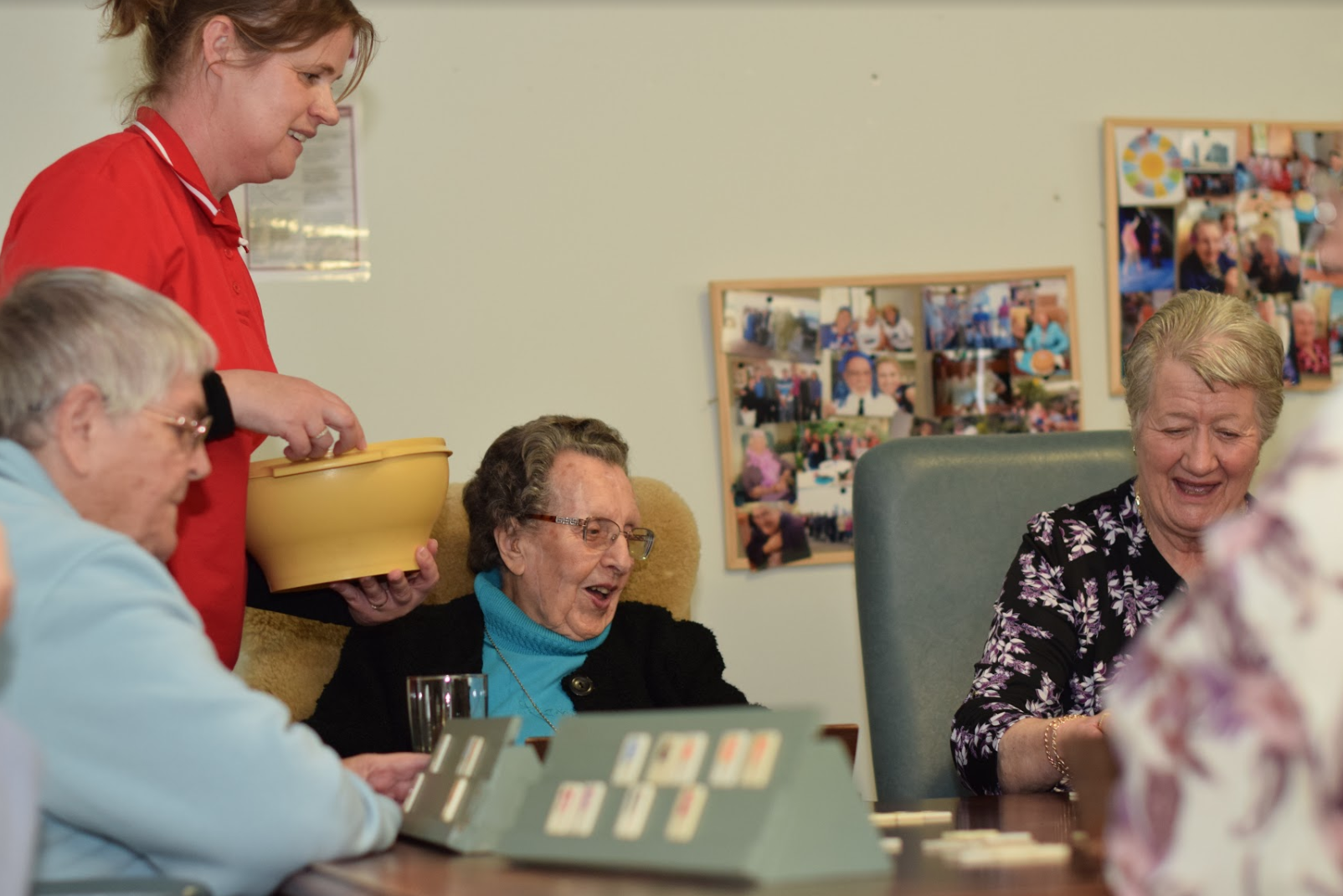 Above: Chorus customers playing the games they love at Our House.
"There were a couple that didn't even talk when they started coming here. They would just sit there and wouldn't say boo to anybody. Now, they'll have a joke with you – even tell you stories of their lives." – Shirley Dire
"[Many customers have] evolved their lives around coming in every Monday. They just love it. They say if it wasn't for their Monday activities, they didn't know where they'd be. They say if it wasn't for Chorus, they'd be lonely." – Shirley Dire
Matthew asks Shirley what the driving force and purpose behind Our House is.
"To help people remain sound of mind. Get them out and moving so they're not sitting around alone all the time. It helps them have something in their life. Chorus just wants to help people." – Shirley Dire
"It makes you feel good knowing that you're making them happy. It feels good to make them feel good and happy." – Shirley Dire
These gatherings, and this human connection, do more for Chorus customers than we can easily imagine. And this isn't just a hunch – customers come up to Shirley and say as much.
"Every Thursday, there's a man that comes up to me and says 'Thank you, I had a great time, and I don't know what I'd do without you, I'm forever grateful. I don't know where I would have been today if it wasn't for Chorus." – Shirley Dire
Our House Customer: Shirley – [9:00]
Shirley Dore started as a Chorus volunteer, and is not a happy customer herself.
"I came out of nursing in 1996 and went into absolute deep depression because I had nothing to do after 45 years." Shirley says. "The Belmont Shire Council put me onto working with people. Then I shifted down to Mandurah. I went there on a Monday, started working on the Tuesday, and never stopped until my body decided it's time to give it in." – Shirley
"Now, I'm not just a customer, I belong here," Shirley says.
Matt asks Shirley what sorts of activities she enjoys t the Day Centres:
"Playing with the old girls. They may be little old ladies but they do come out with some risque jokes at times! It keeps them alive." – Shirley
Day Centre Customer: Elsie – [11:40]
Matt also spoke to Elsie for another perspective on what it means to be a Chorus customer at the Day Centres.
"I've been coming here about six years. I was in hospital and had an operation. I was getting depressed, so the doctors got in touch with Care Options [chorus predecessor]. I told them a joke, and they said I'd fit in well with the Monday group." – Elsie
"Without Care Options [Which is now Chorus], I don't know where I'd be. I'd be stuck in the house!"– Elsie
"We all have a laugh and a joke, which makes you feel good all day." – Elsie
Elsie also joins the excursion group that goes out on Tuesdays.
"I enjoy going out, as long as I'm out with company. I do miss male conversation and male company. You can't fault the food, they're good cooks here. You wouldn't get the morning tea you get here unless you paid through the nose for it!" – Elsie
The Purpose of Our House – [15:00]
The purpose of Our House is clear – to give people happiness. The connection, the structure, and the positive impact Our House has on its customers cannot be overstated.
We've heard from staff and customers, and the effect is clear. In the podcast booth, hosts Dan, Louise and Matt agree – this is what they're here to do at Chorus.
As effective as Day Centres like Our House are, there is a view that this Day Centre way of working is on the way out. So Chorus is trying to innovate around finding different ways to meet that underlying goal of making connection.
"Whether that's in a home, a public space, or in a virtual space online, we'll give people that critical piece of the puzzle of a good life, which is connection and belonging." – Dan Minchin
We've heard a small example of that in Chorus today, but it's a very big piece of the story when it comes to enabling people to live the life they choose.
Thanks for Listening!
Thanks for tuning in to this episode of the Chorus Voices Podcast.  If you find yourself inspired by these stories, head to our website and learn more about what we're doing.
If you enjoyed this episode, please pop into Apple Podcasts and leave us a review! Thanks for listening, and we'll see you next time.
Mentioned in This Episode
Connect With Chorus
Facebook: https://www.facebook.com/chorusaus/
Instagram: https://www.instagram.com/chorusaus/
Twitter: https://twitter.com/chorusaus