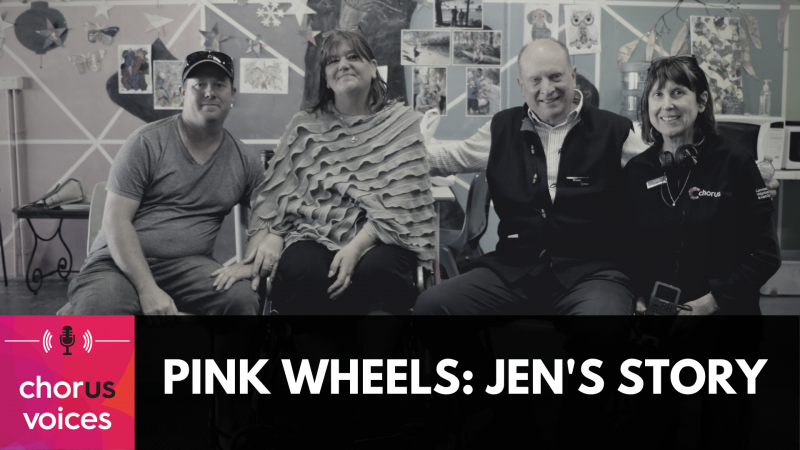 Listen Now

Or listen on: Apple Podcasts | Soundcloud | Spotify | YouTube
Jen finds life in a wheelchair challenging – from facing invisible barriers to having to plan even the smallest activity.
"Friends and family disappear out of the woodwork. It's the person who doesn't choose isolation. In a sense, the whole of society chooses isolation," says Chorus Coordinator, Bruce Carstairs.
"You get angry at the world, you get angry at your friends, because the normal things you used to do with them, they don't realise that you just can't physically do," says Jen.
Jen tries to stay positive. She has painted her wheelchair pink so children in the supermarket aren't scared of the wheelchair.
"Sometimes they get their mum to put them on the lap, and I can take them for a little spin around and they love it."
"I want them to see me," she adds. "Not the chair. I'm a person, I'm human still."
Bruce could see that Jen's life was restricted and he suggested she do some art the Chorus Multicultural Activity Centre. Monday is Asian Day and not much English is spoken.
Coming along to the Centre has been a big success – both for Jen and the ladies who gather to play Mahjong. Jen enjoys socialising without being judged and the ladies have a way of welcoming her, despite the language barrier.
"We're all really different, but it works really well," she says.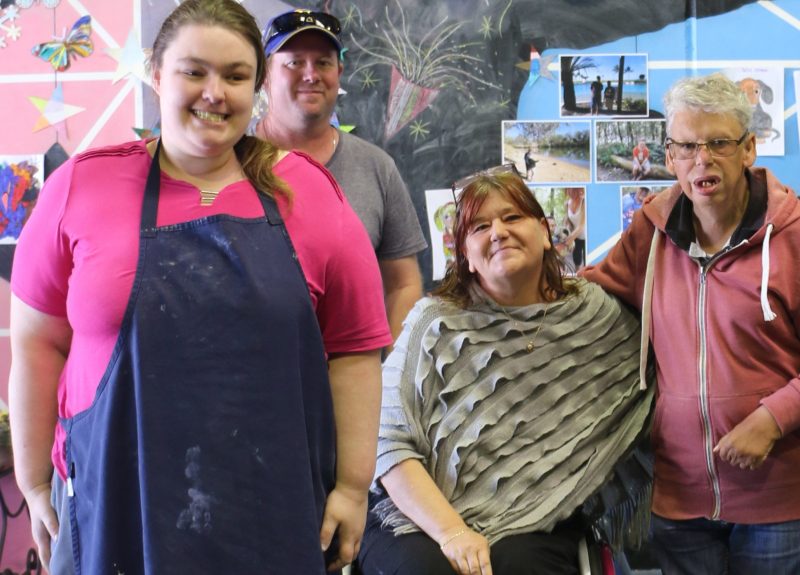 Jen enjoys the program so much that she and her husband Dale decided to visit the Chorus Ability Arts Centre in Mandurah to see what it is like there. Her visit was a hit!
The crew at Ability Arts ask Jen why she is using a wheelchair and tell Jen about their activities, like playing guitar and art.
"It makes me smile hearing from Kimberly and Hayley and Brian (from the Ability Arts program)," says Louise Forster. "And hearing about Jen's experience and how Dale supports her."
"One of the things that really struck me about Jen's story was this progression from being quite isolated to feeling connected. It's such an important part of a good life," says Dan Minchin.
Thanks for Listening! 
Thanks for tuning into this episode of the Chorus Voices Podcast.  If you find yourself inspired by these stories, head to our website and learn more about what we're doing.
If you enjoyed this episode, please pop into Apple Podcast and leave us a review!
Thanks for listening, and we'll see you next time.
Connect with Chorus
Credits
Podcast Hosts: Louise Forster & Dan Minchin
Opening Voiceover: Ryan Burke
Opening Music: "Wattlebird" by Dylan Hatton Music
Editor/Producer: Judith Hatton
Post Production: Matthew Clark
Executive Producer: Meaghan Ferries
Special Thanks To:
Jen
Dale
Bruce Carstairs
Hayley
Brian
Kimberley
Maddie Bull
Carrie Gherardi