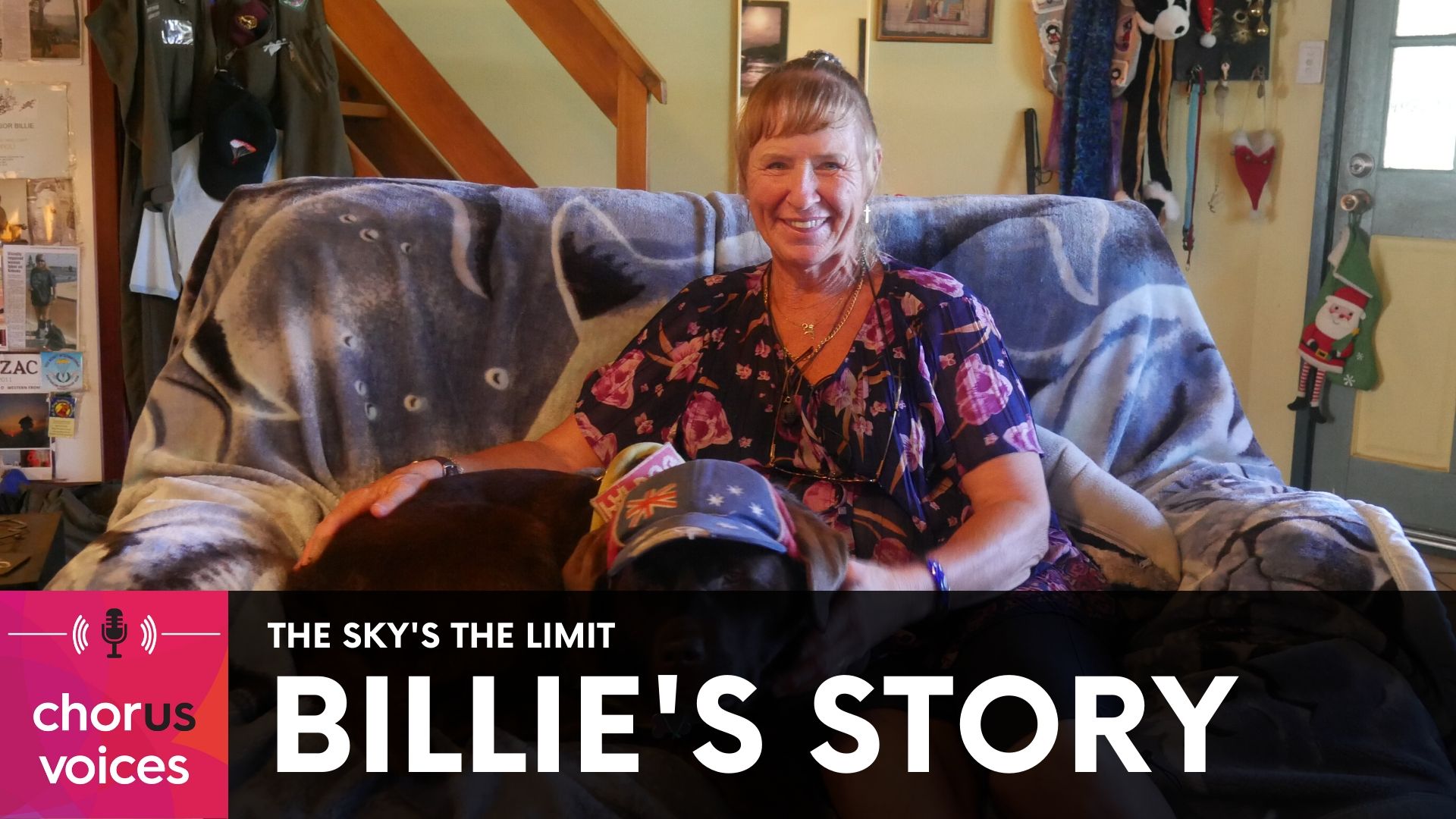 Listen Now
Or listen on: Apple Podcasts | Soundcloud | Spotify | YouTube
Billie was the first female jump parachute instructor in the army.
She led by example and performed 300 jumps over 10 years.
"It was to give the guys confidence, that gee, if a female could do it, couldn't you?" recalls Bellinda.
"They were like my brothers."
In 1990 Billie fell from a 10,000 foot jump.
"I didn't get the prize because I couldn't walk away because I had actually fractured my femur… pelvis in three places and orbital floor."
Billie also ended up in Hollywood Psychiatric Hospital.
"When you're averaging two bottles of scotch a night with Diet Coke, it's a bit much for the old system," she says.
Billie has since turned her life around, including walking the Kokoda Track three times. Her story of survival is inspiring – not only to women but also to people living with a disability.
She participates in Chorus social programs and with her assistance dog Rio is active in the community.
Billie is a role model to Chorus support worker, Angela.
"She is completely independent and that is quite inspiring because she also breaks down those barriers and those stereotypes around disability, and what people who are living with a disability are capable of," says Angela.
Credits
Podcast Hosts: Louise Forster & Dan Minchin
Opening Voiceover: Ryan Burke
Opening Music: "Wattlebird" by Dylan Hatton Music
Interviewer: Judith Hatton
Producer & Story Editor: Judith Hatton
Executive Producer: Meaghan Ferries
Video: Maddie Bull
Post Production: Matthew Clark
Special Thanks To:
Billie Gibson
Angela Johns
Thanks for Listening! 
Thanks for tuning in to this episode of the Chorus Voices Podcast.  If you find yourself inspired by these stories, head to our website and learn more about what we're doing.
If you enjoyed this episode, please pop into Apple Podcast and leave us a review! Thanks for listening, and we'll see you next time.
Connect with Chorus