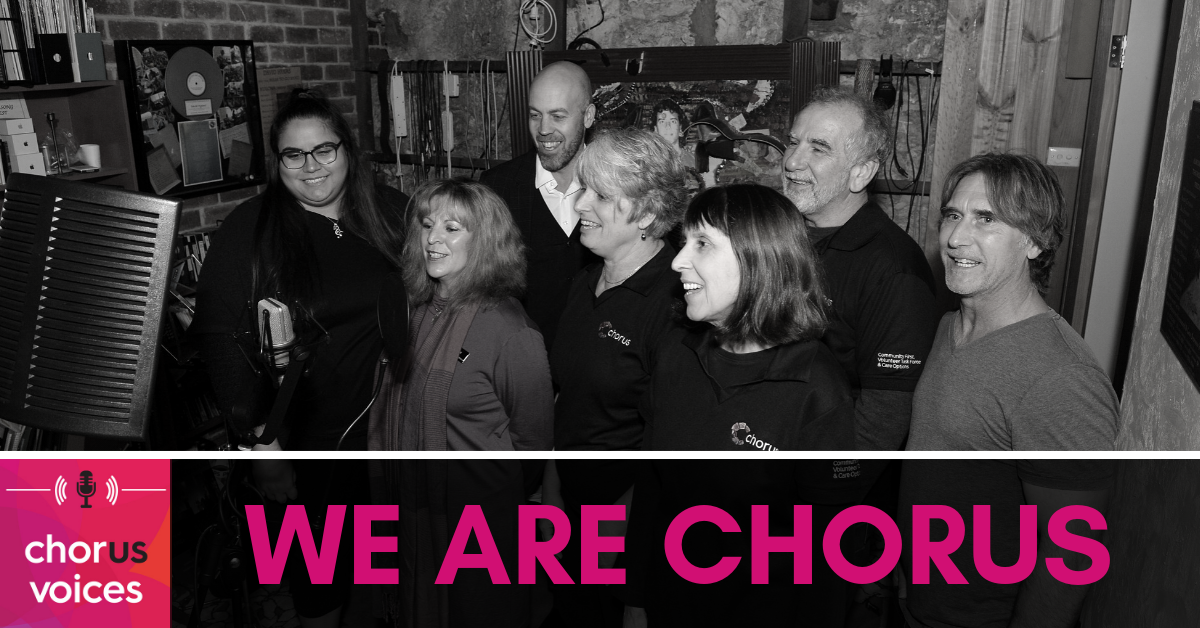 Over the past few months, Chorus has been developing a song!  'We are Chorus,' has brought staff, volunteers and customers together to tell the story of Chorus in true harmony.
On episode 16 of Chorus Voices, Dan and Louise chat to the key players in the making of 'We are Chorus' and get an inside look at this unique story.
Make sure to read or listen to the episode all the way through – the song is played at the finale!
Listen Now
Or listen on: Apple Podcast | Spotify | YouTube 
Meet Elli and Chene [2:03]
Louise meets first with Elli and Chene from the Ability Arts Centre. The drive to create 'We are Chorus' started with these two – let's hear about just where they came up with the idea for the song.
"After the last Chorus day, we thought it'd be really fun to have a Chorus day song. Christie Mack, one of our long term Ability Arts customers came up with the idea."
Elli, Ability Arts staff and customers talked with Ability Arts musician Jeff about their idea. He jumped onboard immediately, they began to develop the song together, and the project was off to a running start.
"You can hear it all over the building now, it gets stuck in your head!" Elli laughs.
Next, Louise asks Chene what the song means to her.
"To me it's about bringing everyone together, especially on a Wednesday. It's for everyone to feel a part of Chorus, and to connect everyone throughout the organisation."
[3:00] Meet Jeff – The Singer and Songwriter
'We are Chorus' never would have happened without the skill and dedication of musician and lead vocalist Jeff. Louise summarises the part Jeff played in putting the Chorus story into verse.
"The song came up as an idea, and then some words were put down – then you wrote some music, and then you performed it at the 2017 Christmas party. That's when people really got excited, saying it was really foot-tapping good," Louise remembers.
Jeff and Louise then reflect on the experience, remarking on how the song evolved and how it represents Chorus.
"There were quite a few lyrics changed, it was an evolving song, and I love it" Jeff says. "The first version was really grungy. Then I changed it because I broke my collarbone and I couldn't do certain chords!"
"It's a bit like us really, we're an organisation evolving all the time," Louise remarks.
"It's all about the bringing together of people. That's totally what I wanted from the song. It was to bring the people of the company together," Jeff says.
[6:46] Meet Peter – From the Peter Varcoe Trio
Every hit song needs a vocalist – and 'We are Chorus' went the extra mile by using lots of them! Peter from the North Perth gardening team was one among them.

Louise wonders what his experience was like – to which Peter responds emphatically.
"As I was practising the song and learning the lyrics, it occurred to me how meaningful the message was – the coming together of three separate companies to create one voice. As far as the actual performance went, I admit I was nervous playing in front of my work colleagues – but once the music started and the film clip began, my nerves settled. I looked around the room to see all the happy and smiling faces. Thanks to Jeff for writing the song, I was privileged to be apart of the Chorus."
[8:41] Meet Renae – A Chorus Vocalist
Service Scheduler at Kwinana for Chorus, Renae, was over the moon about  'We are Chorus.'
"The day that I saw that invite come out requesting interest for people to sing the Chorus song, I got so excited because I've been singing all my life. I replied almost instantly to say 'yes please consider me!' It was a really great experience there at the studio on the day, it was such good vibes."
You can catch some more good vibes from Renae in the We are Chorus music video – watch for her bouncing out from behind the Chorus signs!
[9:57] Meet Gary – A Chorus Vocalist
Chorus volunteer driver Gary has been singing for years.
"I sing for a choir. I've been singing for almost 15 years now and I decided to put my voice in. Any excuse to sing, I'll take. I love it. Lots of lovely, sweet voices here," Gary says.
Louise asks Gary what he thought of the lyrics.
"They're very nice, they describe what we do. The idea of bringing lots of different groups of people together from lots of organisations is a good thing."
[11:15] Spreading the Music Through Chorus
In addition to being a Singer and Songwriter, Jeff is a Music Facilitator at Chorus. He incorporates music into his work with the Chorus Ability Arts group every Wednesday. Not only did he help write the song, he keeps it alive and well by performing it with the group.
"Every Wednesday we're playing it and they love it. They always beg me to 'Play the Chorus Song! Play the Chorus song!' We do it about four times a session," Jeff says.
"[Everything about the song] is a real group collaboration, [from] writing the song together to doing a workshop on the words, and deciding what we were going to sing about." Jeff says.
Louise agrees that it's been a massive team effort throughout the organisation. How does Jeff feel about the experience?
"Absolutely wonderful. Meeting people from different departments was fantastic and the talent was amazing. Even Dan has a cracking voice."
[14:12] Meet Hayley – And Hear the Song!
Before Dan and Louise play the song from the studio, we hear from Hayley, a customer at the Ability Arts Centre.
"I like it!" Hayley says. "[Singing 'We are Chorus' makes me feel] very good. [It reminds me of going] to karaoke at Midora Bay on Sunday nights with Mum and Dad."
And with that, it's time to listen to the song!
Mentioned in This Episode
Connect With Chorus
Credits
Podcast Hosts: Dan Minchin and Louise Forster
Opening Voiceover: Ryan Burke
Opening Music: "Wattebird" by Dylan Hatton Music
Producer: Matthew Clark
Interviewers: Dan Minchin & Louise Forster
Special Thanks To:
Contributors to the podcast: Elli Moody, Chene Van der merwe, Hayley Bracknell, Jeff Funnell, Peter Varcoe, Gary Allen and Renae Ambrose.
Singers 'We are Chorus': Renae Ambrose, Gary Allen, Robyn Coles, Vivienne Forbes, Jeff Funnell, Judith Hatton and Dan Minchin.
Thanks to David Hyams all the Ability Arts crew.