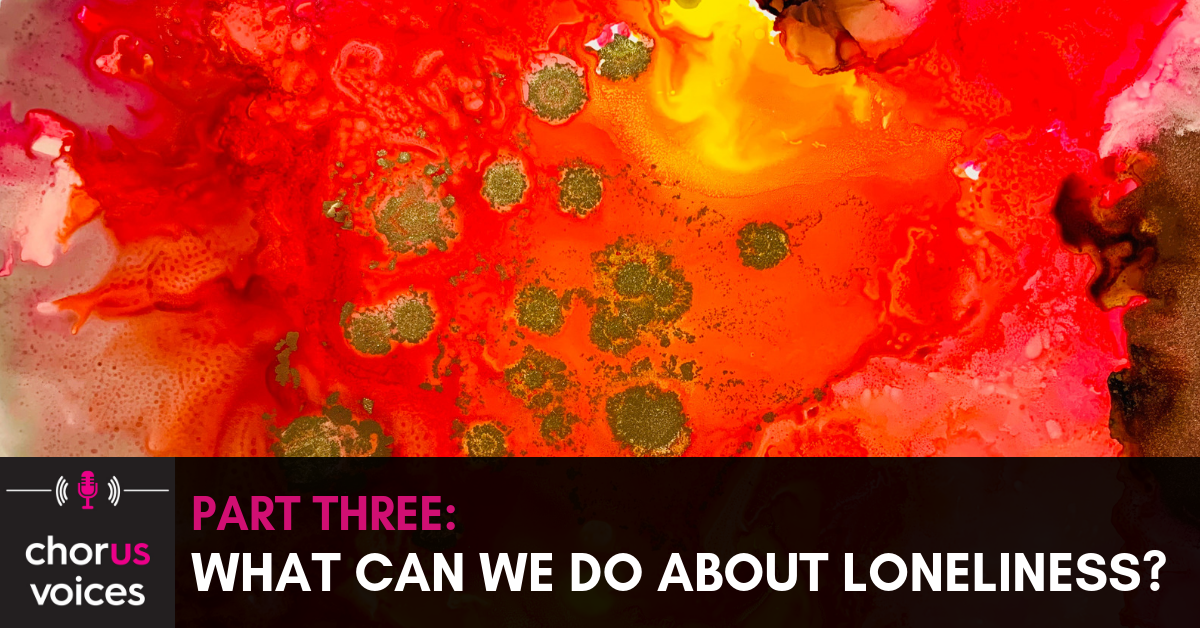 Listen Now
Or listen on: Apple Podcasts | Soundcloud | Spotify | YouTube  

Loneliness is a huge problem across the world. In the UK, Prime Minister Teresa May appointed Britain's first ever loneliness minister in 2018 to address the fact that 13% of people in the UK feel lonely. In episode 30 of Chorus Voices we look at the loneliness that can happen when we move away from family and friends.
Emma emigrated to Perth in 2007 with a three-week-old, a two-year-old and a husband working fly-in-fly-out.
"I was living on one of those cookie cutter estates where people would drive into houses and shut the garage. I remember on days talking to no-one but a shopkeeper and I hadn't anticipated that amount of loneliness."
Jane grew up in Zimbabwe and has lived in different places around the world including the UK, France, Japan and now Perth. She talks about her experience as a "third culture kid", where finding a sense of belonging was difficult.
"It sounds really idyllic. We would walk through sunflower fields to go to school and pop in and buy baguettes and things, but, actually, it was incredibly lonely." – Jane.
In this episode Lou Forster also shares eight tips on how to cope with loneliness.
Thanks for Listening!
Thanks for tuning into this episode of the Chorus Voices Podcast.  
If you find yourself inspired by these stories or if you or someone you know has been affected by loneliness, start a conversation with us. Head to our website, and follow us to learn more about what we're doing.
Let us know if you enjoyed the Chorus Voices Loneliness series.  Pop into Apple Podcast and leave us a review! Thanks for listening, and we'll see you next time.
Find out more
Loneliness can be addressed. To find out more visit the below websites:
1. Australian Coalition to End Loneliness  
2. UK Campaign to end loneliness

References

Other useful links
Connect with Chorus
Credits
Podcast Host:
Louise Forster

Opening Voiceover:
Ryan Burke

Opening Theme Music:
"Wattlebird" by Dylan Hatton Music

Interviewer:
Louise Forster

Story Editor:
Dan Hatch

Production and Sound Design:
Matthew Clark

Music:
"Interflowing" by Dylan Hatton Music

Special Thanks To:
Jane Chilcott
Emma Jarvis

Loneliness Artwork:
Suzanne Waldron
"I see this image exploring loneliness from left to right. Almost as if the wispy uncertain cloudiness of feeling lonely invade the internal space of the body," says Suzanne. "Though as each of us know it's a feeling that passes and move into the brighter shades of life, which is what the yellow represents to me."
About Suzanne Waldron
"I use alcohol inks to get the effect on the paper. When I prepare for the piece, I take myself into the question and the actual feelings I want to represent. I never know what the image will look like until it is appearing on the page. It's a very organic process that almost happens through me rather than from me. I love not knowing how it will finish. I use a great deal of instinct and depth of my own knowledge of human behaviour to represent the topic on the page."
All proceeds go to two different causes. Suzanne buys coloured pencils for children who would like to experiment with art, but do not have the funds to do so. She also contributes to an art therapy project that supports women refugees.