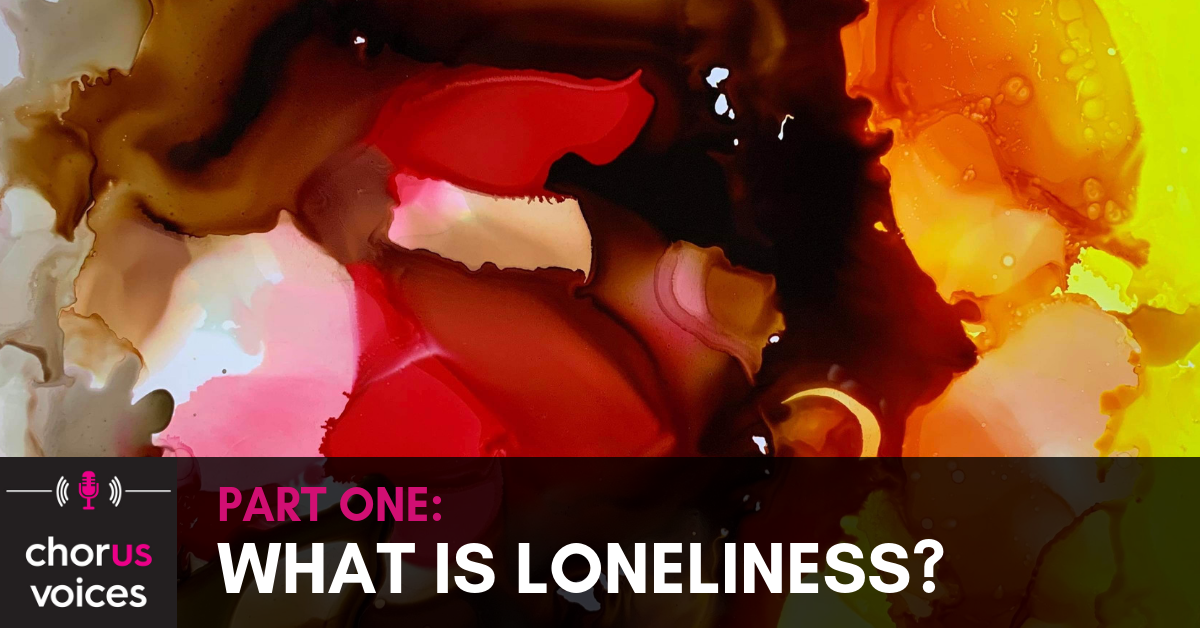 Instead of him saying, "I don't feel well, I'm not having a good day," he would say, "I feel lonely."
According to Swinburne University, almost 28% of Australians feel lonely at least three days every week. And 1/5 of us rarely feel we have someone to turn to for help.
We wanted to find out more about being lonely – how our personalities, where we live, the way we are brought up and what happens along our life journey can contribute to loneliness.
Listen Now

Or listen on: Apple Podcasts | Soundcloud | Spotify | YouTube  

In Part One, Lou Forster speaks to three people about their experience of loneliness.
Warren lives in WA, is 53, has five children and separated from his wife three years ago.
"You realise that you're using your phone… as a portal to avoid isolation," says Warren.
Duc lives in inner city Perth, WA. She's an academic and came to Australia from Vietnam when she was 18 months old.
"There's a difference between being alone and being lonely. Sometimes respite from the world is a good thing," says Duc.
Brett also lives in Perth. His life changed when he was bitten by a tick on a trip of a lifetime to the Amazon.
"A lot of people that I used to go out socialising with started disappearing… I'd be sort of 30 minutes in and I'd say: I've just got to go home."
Lou also talks to psychologist Abby about what happens to our minds and bodies when we experience loneliness. Abby offers some tips on how to combat feelings of loneliness.
Tune in next week for part two of our three-part series on loneliness when Chorus Voices looks at why we feel lonely and who is particularly at risk.

Find out more
Loneliness can be addressed. To find out more visit the below websites:
1. Australian Coalition to End Loneliness  – https://www.endloneliness.com.au/about-loneliness/
2. UK Campaign to end loneliness – https://www.campaigntoendloneliness.org/
References
www.theguardian.com/australia-news/2018/nov/09/loneliness-study-finds-one-in-five-australians-rarely-or-never-have-someone-to-talk-to
www.abc.net.au/news/2018-09-21/loneliness-getting-worse-and-has-health-risks-study-shows/10289274
www.digest.bps.org.uk/2018/09/17/who-likes-to-be-alone-not-introverts-according-to-a-new-paper-on-personality-and-the-experience-of-solitude/
www.reuters.com/article/us-health-widowhood-volunteering/lonely-volunteering-just-two-hours-a-week-may-help-idUSKBN1AD2P1
www.abc.net.au/news/2018-01-18/britain-appoints-minister-for-loneliness-amid-growing-isolation/9337544
www.verywellmind.com/loneliness-causes-effects-and-treatments-2795749
www.swinburne.edu.au/news/latest-news/2018/11/new-australian-research-reveals-health-toll-of-increasing-loneliness.php
Other useful links
Chorus.org.au (chorus.org.au/)
Lifeline Australia (www.lifeline.org.au/)
Linkwest (www.linkwest.asn.au)
Befriend Inc. (www.befriend.org.au/)
Connect Groups – Support Groups Association WA (www.connectgroups.org.au/)
Rainbow Coast Neighbourhood Centre Albany (https://www.rcnc.org.au/)
The Salvation Army (www.salvationarmy.org.au/)
Western Australia Association for Mental Health (www.waamh.org.au/)
BeyondBlue (www.beyondblue.org.au/)
Headspace (headspace.org.au/)
Act-Belong Commit (www.actbelongcommit.org.au/)
RU OK? (www.ruok.org.au/)
Relationships WA (www.relationshipswa.org.au/)
Credits
Podcast Host:
Louise Forster
Opening Voiceover:
Ryan Burke
Chorus Voices Theme:
"Wattlebird" by Dylan Hatton Music
Opening Music:
"Interflowing" by Dylan Hatton Music
Interviewer:
Louise Forster
Story Editor:
Dan Hatch
Production and additional sound:
Matthew Clark
Special Thanks To:
Warren Coppard
Duc Dau
Brett Osler
Abby Rammelkamp

Loneliness Artwork:
Suzanne Waldron
"I see this image exploring loneliness from left to right. Almost as if the wispy uncertain cloudiness of feeling lonely invade the internal space of the body," says Suzanne. "Though as each of us know it's a feeling that passes and move into the brighter shades of life, which is what the yellow represents to me."

About Suzanne Waldron
"I use alcohol inks to get the effect on the paper. When I prepare for the piece, I take myself into the question and the actual feelings I want to represent. I never know what the image will look like until it is appearing on the page. It's a very organic process that almost happens through me rather than from me. I love not knowing how it will finish. I use a great deal of instinct and depth of my own knowledge of human behaviour to represent the topic on the page."
All proceeds go to two different causes. Suzanne buys coloured pencils for children who would like to experiment with art, but do not have the funds to do so. She also contributes to an art therapy project that supports women refugees.
www.suzannewaldron.com
www.trailblazingleaders.com.au 
Stripped Podcast