Perth Garden Festival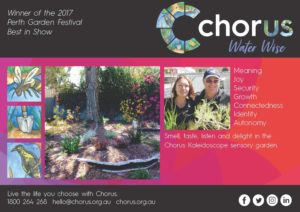 Join Chorus at the 2018 Perth Garden festival, where we will be presenting the Chorus Kaleidoscope Garden, and hoping to live up to our win from 2017.
Gardens bring joy and contentment – a place for self-expression, purpose, belonging and healing. This year's Chorus Kaleidoscope Garden is a symbol of regeneration that teaches about life, loss, discovery and hope.
We hope you can experience something special in our garden. Take time to wander through the sensory garden beds: smell, taste, listen and delight in the explosion of colours and aromas.
Our garden has been designed for people of all ages and abilities, with a particular focus on people living with Dementia. Digging in the dirt and creating a garden can help someone living with Dementia to find purpose and peace. It can also evoke memories of people and places.
The 2018 Perth Garden Festival presented by Kleenheat is held from Thursday April 12 to Sunday the April 15 2018.
For more information on the festival visit www.perthgardenfestival.com
Thursday 12th April 2018

9:00am

McCallum Park, Garland St, Victoria Park WA 6100