Personal Helpers &

Mentors Program
Personal Helpers & Mentors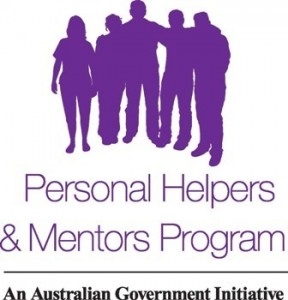 What is the Personal Helpers and Mentors Program (PHaMs)?
PHaMs is a free service that supports people 16 years and over whose lives are affected by mental illness.
What can the Personal Helpers and Mentors do to help?
PHaMs can provide a mentor to work with you to develop a personal recovery plan that will assist you to reach your identified goals. Mentors support participants to recover their hope, identity, self worth, dignity and connection with community.
What about the families and carers of people with mental Illness?
PHaMs can also provide support to the families and carers of people with mental illness.
What is mental illness?
Mental Illness is a condition affecting the way a person thinks, feels, behaves, relates to others and/or their surroundings.
If you are experiencing any of the following you might be experiencing an episode of Mental Illness:
Confused thinking
Long-lasting sadness or irritability
Extreme highs and lows in moods
Social and Family withdrawal
Dramatic changes in eating and sleeping habits
Strong feelings of anger
Delusions or hallucinations (seeing or hearing things that are not there)
Increasing inability to cope with daily problems or activities
Thoughts of suicide or self harm
Denial of obvious problems
Difficulty making decisions
Unexplained physical problems
Abuse of drugs and/or alcohol
Am I eligible for the Personal Helpers and Mentors Program?
Are you over 16 years old?
Are you living in the Kwinana, Rockingham, Peel, Albany, Lower Great Southern, Bunbury or Vasse Regions of WA?
Do you have a diagnosed Mental Illness, or suspect that you have an undiagnosed mental illness that is limiting your ability to cope with your day to day life?
Are you willing to address any alcohol or drug addictions?
Are you currently residing outside of a psychiatric institution, or acute care hospital?/li>
Are you free from the management of the state judicial system?
</ul
If you answered yes to the above, then you may be eligible to participate in the Personal Helpers and Mentors Program.
Chorus delivers the PHaMs program in Western Australia in the following locations:
Peel (Mandurah), Rockingham and Kwinana
Albany and Great Southern
Bunbury and Vasse